Apprentice Electrician
I've once again went to work in an area in which I am pretty well versed in, but not a sector of employment I've every truly thrived in. Again, I have taken a job as an apprentice electrician.
Now I first started working in this field when I was but twelve years old, and I believe that had something to do with me never being able to see it as something I'd ever want to do. No I was not unhappy for working at twelve, that was honor of family then. I was working with my late grandfather who'd recently lost his wife, my late grandmother - and we were working in the Texas heat wiring houses here in Kaufman, County. I was with him because my family didn't want him alone in those circumstances. I am honored I was esteemed able to fill such a role.
I again worked as an electrician wiring houses at sixteen years of age during the Summers, and again at seventeen years of age, during the Summer break from school. Virtually every male in my family is an electrician - other than myself and my brother, who also happen to be very experienced as electricians..
While in need of a job in 2005, I fell back again into wiring houses as an apprentice electrician -learning a trade is forever a wonderful thing.
While I'm mostly a heating, ventilation, air conditioning, and refrigeration technician by experience and choice, I'm finding that work as an electrician is not nearly so against my grain as I'd once thought, and the job I took literally landed in my lap as the Summer ended. Quite naturally, when one is an electrician he or she is involved with powering an air conditioner or heater, and conversely, when one is involved in HVAC, one must forever be cognizant of electricity, and furthermore, plumbing, as an air conditioner produces a lot of condensate water.
Electricians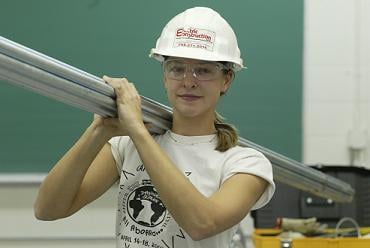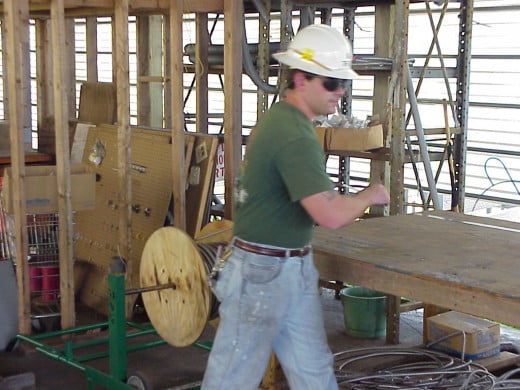 About The Apprentice Electrician's Licence
In 2005 when I went to work for the Fall and Winter as an apprentice electrician, that time was the first in which I was officially working in that capacity. What do I mean? I mean I had to get an apprentice electrician's license.
Before then - there was no license needed for the job, and today, it is the exact same thing - one needs no license to actually do the job; the "license" is NOT a license at all. What a "license" actually is - is a certificate received for having demonstrated knowledge or skill - but the apprentice electrician's license is ONLY a certificate received for having paid the state of Texas twenty dollars cash.
While I have no idea if the other 49 states of the USA or the provinces of Canada require money exchanged so government can hand over something called a "license" for someone to do manual labor or not, that is the exact thing done here in Texas.
With a cursory search of the term "apprentice electrician" and the powers of Google, I found this one
link
that looked pretty good, but this one concerns California. The job of an electrician is something that isn't going to be much different anywhere in the world - there is the job itself, and then there are only the legalities and codes for getting the job done.
So What Does An Apprentice Electrician Do?
Simply put, the job of an electrician is labor intensive. It can be hard work, and it is often repetitive busy work - especially at the entry level. Personally, I've never been involved with electrical service work as an electrician. I am primarily an hvac service technician, and there really is a lot of differences between the job of a service electrician and an hvac serviceman.
Growing up, my father owned a business called Shaw Services - and my father is a Master electrician who's had that license over forty years now. Primarily, as Texas has always been a booming place, my dad's company installed the electrical service, wiring, lights, etc, in new homes. Both of my father's brothers also did the exact same thing, as did their brother in law, their father - and virtually every male in the family.
My family of electricians always made their living wiring houses and small businesses, and lots of apartment complexes. The work is done on construction sites, so it is dirty work, and it is hard work, but with the right frame of mind, the work isn't unpleasant. One can find that doing such work whips them into a nice physical condition, as the electrician in the building of buildings is forever up and down a ladder, and carrying loads of this and that here and there.
Literally, a body can get itself into pretty good shape doing the grunt work of an apprentice electrician. Going up and down a ladder all day pulling Romex wires through the rafters of a home under construction is a lot of exercise. Work hard, get fit, get paid a bit. I've convinced myself here lately that I'm getting paid to exercise.
Of course there is a lot more to the job I'm doing than just the pulling and installing of wires, but that is certainly the most physically demanding thing. When all the wire installing is done, then one must return to the building or home under construction a bit later on when the entire project is nearer completion, and install all the plugs, switches, and lights.
Building ceiling fans is another thing, which can be somewhat interesting, as there are surely hundreds upon hundreds of designs for ceiling fans, and they do not come from the distributor house ready to hang on the ceiling, they have to be put together, as do a lot of the fancier light fixtures.
Installing all these things is one thing, and of course the goal is forever to get it right the first time, but then there is also the reality that determines that sometimes things get damaged in the construction process, or were never done correctly to begin with - so just before a home or business is ready to be used and occupied towards its intended purpose, things must be made to work that did not work. It is all, of course, very real work.
Tools For The Trade - Electrician's Tool Belts
There is simply no way around it, anyone wishing to be an electrician must have a tool belt, or a tool pouch with a belt through it to wear around the waist. In the field of HVAC, nobody carries their tools on a belt because they generally have no clue what tools will actually be needed until they arrive at a job - but the electrician's job is rather different. The electrician tends to know what he will be doing pretty exactly from day to day, and especially in the field of construction - and the electrician knows he needs tools around his waste where he can always get to them - as he needs very specific tools, and ready access to them at all times.
I myself carry a very ancient leather tool belt - with pouches on either side of the thing - and this, my friends, is important because the construction end electrician is very often up and down a ladder of various sizes, and when standing high up on a ladder one needs to be balanced. Balance is crucial to maintaining a non injured state - and so there is a two section tool pouch or tool belt - with pouches or sections for tools and materials on either side of the body, connected to the waist via the belt.
The Claw Hammer
Quite literally, some days the claw or carpenter's hammer is in my hands more than just about anything else. On the construction end of the electrician's job, nobody but the actual carpenters are swinging hammers around more. Very often, the framing carpentry crew will be present at the same time as the rough in electricians, and so the cacophony of banging combined with pneumatic nail guns, can be rather intense.
What the electrician needs a hammer for are multiples of tasks too great to enumerate on here, but suffice it to say, wires must be secured to the wooden frames of buildings, and so too must the boxes or pans that lights, plugs, switches, and fans mount to.
Wire Strippers, Side Cutting Lineman's Pliers, and Needle Nose Pliers
Electricians are so obviously persons dealing with electrical wiring it goes without saying, but I've here said it once more - and utilizing such wiring towards and end always involves connecting the wires - which is mostly a very simple task, but one that is most often done by using many tools, and none more or less important than the actual wire strippers used to strip away the protective insulation that keeps a home safe - and in order to connect the circuitry.
There is more to it than that, of course, as also a pair of lineman pliers or "side cutters" must be used to properly and effectively twist together the stripped wires; and then this new electrical wiring connection must be protected anew with what is often referred to as a "scotch lock," or a "wire nut."
Often are the times when coarse copper wires are in places where they are hard to get to, to manipulate towards the end of providing an electrical service, and often in such times, ye old needle nose pliers are needed to fish out, pull out, bring forth the wires for stripping, cutting, twisting, and connecting.
Screwdrivers - You Have To Have Them
In my life the only jobs I've had that didn't involve screwdrivers all involved wearing a suit and a tie, and even then I often got home and had to use some screwdrivers to do something or another. Lets face it, practically everyone on the planet at some point or another is going to need some screwdrivers, and the electrician's apprentice most certainly needs several.
I don't suppose I need to go into much detail here about the kinds of screwdriver, and what they are used for, but suffice it to say there are flat heads and Philips head screwdrivers that must be had and used virtually every work day, and I do mean of various sizes too.
A little note here about Klein Tools - my thoughts are they are the best hand tools of any and all varieties that I've ever seen or used, and so I do endorse Klein Tools. Craftsman Tools are also very good tools, and there are other brands too, of course. With Klein or Craftsman, one has a lifetime guarantee on those, and if one breaks, it can be replaced. They do cost some money to buy, and this is because those brands make tools worth having.
If you are in a pinch and need to rustle up some hand tools on the cheap - then you can always search the local pawn shop.
Now despite how awesome is the Klein Ten In One screwdriver, you won't be able to get by with just that, as you will sometimes need a screwdriver with a longer "neck" on the thing.
For some jobs the newer style "cabinet tip screwdrivers" with the swivel - those things are marvelous, I don't own one, as I tend to stick to more traditional tools - but one of those is sure on my shopping list.
Additional Tools Needed For The Apprentice Electrician
Now it is important to know here that generally speaking, the apprentice electrician won't be expected to have every tool in the world, as the job foreman will have them, and will let you know what he expects you to have for the types of jobs you will be doing, but what I am hoping to provide here are the fundamental tools - as these are tools that will be used by any electrician of any degree of skill of license regardless of it all, and most handyman types are going to have these things around anyway.
If you don't know just what "Romex" wire is, then let me assure you - you will become intimately familiar with it, and in order to access the wiring to even put the wire strippers on what wires need connecting, one much have a VERY sharp knife to cut the outer levels of protective insulation away, and for this, the traditional box cutter razor knife is the absolute best tool imaginable.
Now Klein tools does make an electricians knife especially for this job, but my opinion is that it is an inferior tool to the razor knife or box cutter, simply because with a razor blade knife - one merely needs replace the razor blade from time to time, and not ever worry about sharpening a dulling blade.
"Dykes" or "diagonal cutting pliers," are another absolutely essential tool for all electricians, and their entire purpose in life is to cut wires of various thickness with ease, and precision.
Tape measures - you just won't get far in the electrical field without one! Electricians are forever measuring distances from walls to determine where to cut or drill holes, or where to nail up cut pieces of two by fours for the hanging of light fixtures, and fans, and the appropriate boxes used to install them and their wiring.
Lastly, when it comes to light fixtures, and especially in homes - those things must be level, lest they become an eyesore, and jobs done right are the jobs a worker can be proud of having done. So a simple torpedo level is something that any electrician's tool pouch needs to have in it
That Would Be Me, An Electrician