I'm calling him retired. He may not like it, and I could be wrong. He's 38 years old, and he's been in decline for a long time. He had a better 2018 than 2017, but he travelled 3 teams trying to stay employed in the MLB. Joey had a great career, but he is not a HOF guy, he never had a decent year until 2010, when he had a world class year. He's someone everyone loves to hate, mainly because he's just not a nice guy. He does have a higher IQ than the average baseball player though.
Joey Bats bat flip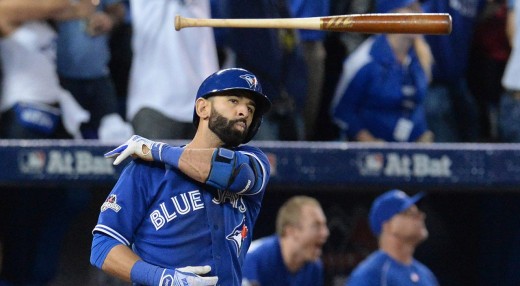 The bat flip won't be forgotten by the Texas Rangers pitching staff
When the bat flip happened, I knew the game was basically over. The game was over, and so was the season. I reminded myself how great it was the Texas Rangers had made it to the post season to begin with.
Jose Bautista flipped his bat rather flippantly. People flipped out about it. I don't mean to sound too aggressive or anything. I'm just a guy writing about Jose Bautista here. He's going to get plunked by the Rangers pitching staff this year. You can bet on it. Intentional plunking is going to be going down.
Who knows what is going to happen? Maybe Jose will take it in stride. Trot to first base for a free pass. Maybe he'll charge the pitching mound. Maybe both benches will clear, and someone gets suspended for a few games.
Regardless of any of that, everyone appreciates Jose for who and what he is. A very formidable baseball player. He's not a bad writer either. You can read Jose
in his own words talking about the bat flip
. How he got to be batman there on the big stage. Everyone who plays baseball dreams of having a special moment like that one. One that gets replayed over and over thousands of times.
Jose Bautista - established power hitter
Joey Bats is a productive bat though. The bat flip was a clutch bit of performance. He got a lot of air time out of it. The replays of the bat flip go on and on, and on. No doubt the bat flip has helped his career.
He is at an age and place in his career when he needed something a little extra. So he helped himself. He hit a big go ahead homer and showed out with the bat flip. He is now 35 years old. He makes 14 million in 2016. He'd like to prove this year he has still got it. Make as much money as humanly possible in the coming seasons, then retire a wealthy man.
He was a late bloomer so far as baseball stars go. But boy-howdy, did he ever bloom. He's a member of the 50 home runs in a season club. He's led the American League in home runs for two different seasons. He had fine power numbers in 2015 too.
Jose has a strong throwing arm, but will probably become a designated hitter in the future
But maybe we should stop looking at Jose and his bat. He's more than a bat. Joey is a right fielder. Why right fielder? Right field is often a spot where you put your outfielder with the strongest arm. Joey Bats has a strong right throwing arm.
He's known mostly for the stick though. The bat. Joey Bautista is a right fielder for now. But don't be too surprised should he wind up as someone's designated hitter in a year or three.
There had been a news story claiming Joey asked the Toronto Blue Jays for $150 million for 5 years. Joey denies he asked for that kind of money. Thirty million a year is more than twice what he makes already. He is 35 years old, and a sort of borderline Hall of Fame player.
Young Jose Bautista in a very short stint with the Orioles of Baltimore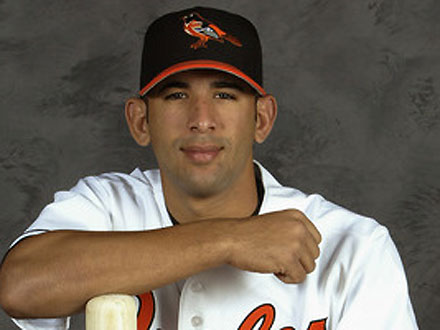 Joey Bats in the early years. From the Dominican Republic to the Major Leagues
Jose has bounced around a bit. Like I said, he was a late bloomer. He bloomed though. He's the only guy in history to appear on the rosters for 5 Big League organizations in one year. He bounced some in the early days.
But Jose is from the Dominican Republic. He is yet another reminder about how the competition and level of play in the Major Leagues has improved as the game expanded its scouting into the rest of the world. Jose wasn't from a poor family. He's from a seriously educated family. Jose started learning English at 8 years of age. He's probably a lot more brainy fella than you realize.
Joey studied business in college just in case. He banked on baseball though. He turned down the first two offers he got from Big League clubs. The third offer was quite large, and Jose accepted that $300K from the Reds of Cincinnati. The check didn't clear though. The Reds changed ownership, and the big check died in the transition.
When you think of Joey Bats think of the punch in the gut he must have felt when he learned that three hundred thousand dollar check wouldn't be honored. He had a pass to the American dream. Then it was taken away from him, though he'd done no wrong.
Well, things worked out alright. It just took a while longer. He got picked up by the Pittsburgh Pirates. Due to some rules known as the rule 5 draft, after three seasons of minor league ball for the Pirates, Jose became a Baltimore Oriole. It was with them he first appeared in the MLB.
Bautista bounces around the Big Leagues
Jose would bounce from Baltimore to Tampa Bay. From Tampa Bay to Kansas City, and from there to the New York Mets. The Mets would trade him back to Pittsburgh. So there is the five teams or organizations Jose was a part of in one year's time. That was the 2004 season. In 2005 he'd get a chance to play, but only a little. In 2006 Jose got to play for real. He got 400 at bats for the Pirates, and he showed a little pop in his bat, he hit 16 home runs.
When Joey was originally scouted his potential as a power hitter was noted by the scouts. But Joey isn't a big guy. He stands just six feet tall. You can see he's not exactly built like Prince Fielder or anything either. He's listed at just over 200 pounds. But he showed some power. He looked like a guy who could hit a solid 20 home runs per season. That's nothing to sneeze at. But nobody could have predicted what would eventually come about.
Jose played third base for the most part. His strong throwing arm made him a good fit there. It was understood that Bautista was a young guy with potential, and he was given playing time to develop. He started at 3rd base most of 2007 for Pittsburgh, and produced similar numbers as he had the year before: a .254 batting average, 15 home runs, and 63 runs batted in.
Some folks weren't sold on the potential. Some baseball folks had predicted Jose would be no more than a 4th outfielder. Another guy said something to the tune of he's no Mike Schmidt.
Traded to the Toronto Blue Jays
In 2008 Joey started the season for the Pirates as their every day 3rd baseman. He started hot too. But he only started hot. He struggled with the bat for most of the season, and was demoted back to triple A ball. Then, he was traded to the Blue Jays for a player to be named later.
Sometimes a change in latitude changes the attitude, just makes everything click. This has happened for numerable players in baseball. You get traded, and it does something to your mind, makes you damn sure want to prove those people were wrong about you. Or maybe it was something else. In any event, Jose didn't start 2009 as an every day player. He again started the season very well with the bat in hand, but as the season wore on, Jose's production declined steadily.
While it is unclear where Joey was and just when he grew his very first epic beard. The beard has been a mainstay of his presence in Toronto. Not coincidentally, he's become a monster presence in the batting box. The man just out-beards most all others.
Jose's 2009 season in Toronto wasn't much different than any of the other seasons where he got around 400 at bats. He hit 13 home runs, had 40 runs batted in, and batted .235. These were statistics which were consistent for Jose. They were what folks had surely come to expect from him. Then he simply transformed into a monster power hitter the next season.
Jose Bautista - the leg lift helped him time his swing, and become the monster power hitter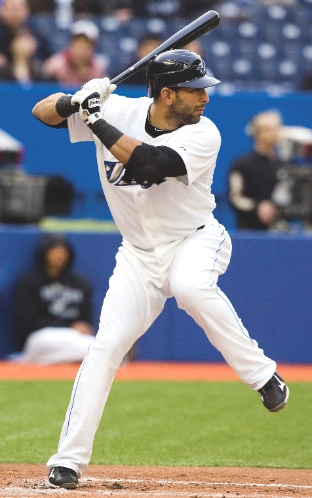 Something has gotten into Jose Bautista. He's become a monster with a bat in hand
In 2010 Jose Bautista became Joey Bats. He had a breakout year. A freakish departure from the average sort of baseball player he had been. He became one of the American League's most prolific power hitters.
In Major League Baseball you get pigeonholed. People have seen a few seasons of you, and they know just what to expect from you. This is why Jose had been a vagabond in baseball. He was a part player. Someone who filled a hole, but was not a star. He was a borderline Major League player. Lucky for him when he got to play every day in stretches.
Then he just exploded. Jose was always more intelligent than the next guy though. We mentioned before here that he's really a brainiac sort of fella. He maybe doesn't come off that way when he's doing epic bat flips. He'd not been doing too many epic bat flips before 2010, and he'd done nothing else epic other than being an epic fill in, or afterthought.
Jose changes his swing under the tutelage of Cito Gaston. He became Joey Bats because he finally matured in his mind, and got with the right people to teach him how to harness his talent. Of course he got accused of using
steroids
. He's small for a slugger, but he's no smaller than Hank Aaron was, or Mickey Mantle.
Breakout season of 2010
Since 2010 no one in all of baseball has hit as many home runs as Joey Bats. He hit 54 home runs that year. He also drove in 124 runs, and batted for a .260 average. You can imagine he started getting a lot of walks, and he did. He collected 100 free passes, and being on base so often you can imagine he scored a lot of runs, and he did, 109.
He was also now starting in right field. He won a Player of the Week award in May. By July he'd be selected as a reserve for the All Star game. Before the season ended Joey had set a new record for the Blue Jays organization for home runs. His 54 homers broke the old mark set by George Bell. Only 26 players in MLB history have ever hit 50 or more home runs in a season.Joey won the Hank Aaron award and the silver slugger award, and finished 4th place in the AL MVP award voting.
Joey Bats - perfect swing mechanics at the moment of contact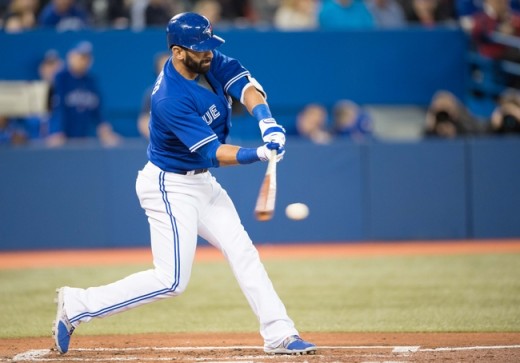 Jose Bautista - he put together another monster season in 2011
In 2011 AL pitchers knew what they were dealing with in Joey Bautista, and so they started walking him very very frequently. He was walked 28 times in the month of April, breaking a team record for walks in a month. Pitchers who got burned by Bautista in 2010 don't want to see the same thing again. They're walking him.
Joey is at this time breaking Blue Jays records left and right. He's winning AL Player of the Week awards often. He's also winning AL Player of the Month awards pretty often too. Pitchers who think they've got Joey's number for having past success. He's burning those guys. Bombing them may be a better description. The 2011 All Star voting is a landslide for Bautista. At this point in time he's like Barry Bonds.
Some players in the big leagues need to have some sort of stability for their defensive game. They need to know, am I playing second? Am I the shortstop? Who am I? Joey doesn't have this issue. He plays third base some days. Like he's Adrian Beltre. Other days he's right field, like a role model for what we expect of Giancarlo Stanton. Joey loves baseball. He'll play wherever his manager wants him too. Be like Joey.
Joey wound out 2011 leading not just the AL in home runs again, but the Major Leagues in home runs. He's the first guy to do that two seasons in a row since Mark McGwire did so. He'd have hit more home runs, but he leads the world in getting walked. Pitched around. But nowadays are the days of the sabermetrics. Joey leads in slugging percentage and OPS, walks both intentional and semi-intentional. Joey's gun in right is a big plus for the Jays, he guns out 13, and takes part in 5 double plays from the outfield.
2012-2013. Bautista keeps up the pace, but battles injuries to wrist and hips
In 2012 and 2013 Joey kept up his home run pace of the previous two seasons, but he spent time in 12' and 13' on the disabled list. He made the All Star team both seasons, and performed in the home run derby.
The injuries Joey suffered were a wrist injury in 2012, and then a hip bone bruise in 2013. The wrists and hips of a hitter are both vitally important. Bautista's bombs kept coming at the previous rates when he was available.
Joey Bautista had strong seasons in 2014 and 2015. Expect more in 2016
Bautista enjoys incredible popularity. At one point he'd set a record for All Star game selection votes. Then Josh Hamilton broke his record. Bautista's popularity with fans has not waned like Josh's has though. In 2014 Bautista mad another All Star start, and was named AL team captain for the home run derby. He also got the most popular votes in the Major Leagues for the second time.
Joey would finish the season with his best numbers since 2011. He'd also win another Silver Slugger award. He hit 35 home runs, drove in 103.
In 2015 Bautista would have another fine season. He returned to close to the form he'd shown in his mega years of 2010 and 2011. He again hit 40 home runs, and this marked the 3rd time in his career to make that mark. He again led the American League in walks, as all AL pitchers fear to throw strikes to Joey Bats. He drove in over 100 runs for the 4th time in his career.
And Joey became famous to everyone for his bat flip. They were even making t-shirt and sweaters to celebrate the affair. joey to The World, they said on them, with a nice knitted Jose Bautista image on the front. But I swear to you we Texans aren't mad. We appreciate Jose for the slugger he is. We love the game for the game unequivocally. There will be no hard feelings. But Joey is likely to get plunked just the same. i wish him the best in 2016, and beyond. So should you. Thanks for reading.