He had his worst season in years, but he's still got something in the tank. 633 home runs to date, and 1,982 runs batted in. His days of being a triple crown threat are long past, but there are years still left on the contract. I'm hoping he does well.


The Pujols Swing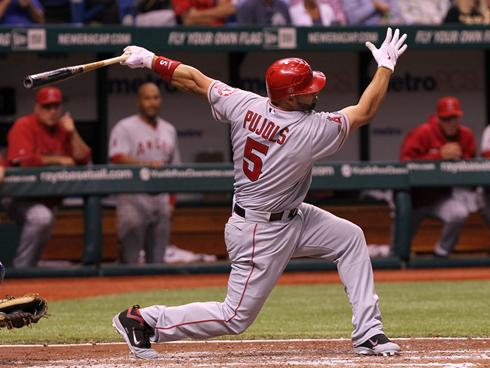 Albert Pujols is a sure thing for the baseball Hall of Fame, but he's got several years left to play
Albert Pujols is going to be in the Major League Baseball Hall of Fame. He literally crossed the threshold of worthiness years ago. He has several years left to play. Albert could retire today, before the 2016 season even starts, and he'll be voted into the Hall of Fame as soon as he is eligible.
There are a couple of other players who're still active, still playing ball who are also sure fire Hall of Fame guys. Miguel Cabrera is one, and Ichiro Suzuki should be another. David Ortiz is extremely likely to be a Hall of Fame guy. But out of all of those players, only the much younger Cabrera can compare to Albert Pujols in the statistical glory we associate with Major League Baseball, and the few players who make it to the Cooperstown shrine.
There is also the elephant in the room. Alex Rodriguez, the infamous A-Rod. A-Rod's stats are comparable to Pujols, but we all know about A-Rod and his factual use of performance enhancing drugs. But this page is not about that. Not really. This page is a celebration of the greatness that is Albert Pujols.
He's had seven years of 40 or more home runs. Twelve years of one hundred or more runs batted in, and he would have had thirteen straight were it not for a year when he had 'just' 99. He has also at times led his league in batting average and hits.
He is only now 36 years of age, and he owns 560 home runs, 2,666 hits, and 1698 runs batted in. It is very possible Albert Pujols breaks the 600 home run barrier this season. He could also crack 1800 runs batted in.
Albert Pujols poses for a photo in high school baseball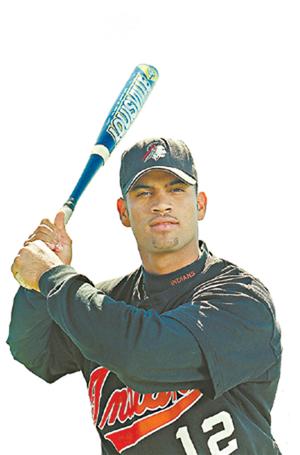 Albert Pujols was born in the Dominican Republic, but emigrated to the USA as a teenager
His full name is José Alberto Pujols Alcántara, and he is a Dominican-American. He was born and raised in Santo Domingo, the most notable city in the Dominican Republic, and he was raised by one of his grandmothers, who's name was prophetic, America.
His father played softball there in Santo Domingo, but he was an alcoholic. Albert was that poor kid you picture in your mind, the one using a stick for a bat, and any damned thing he can find for a ball. He probably batted thousands upon thousands of rocks into the distance. Increasingly, the rocks traveled further and further, until you couldn't find that one ever again.
Albert was born in 1980, and when he was 16 years old he was fortunate to emigrate to New York City. His father and his grandmother were with him. But New York City has a big ugly underbelly. All large American cities do, and Albert saw part of that with his own two eyes. He witnessed a shooting inside of a grocery store. His family soon moved far from New York, and landed in Independence, Missouri. They had relatives there already, and families banding together progress more in this world, regardless of where it is you happen to live.
Albert was surely a big and strong teenager. I bet he was pressured to pursue football. Whether he did or not, I don't know, but what I do know is he pursued his first love, and that was baseball. Baseball would love him back. But coaches of opposing baseball teams had little love for twice over All state baseball player Pujols. The constantly walked him in protest because they believed he was older than 18 years of age.
Albert was batting balls that traveled 450 feet in high school. He got a scholarship to play baseball at a small college, but Albert wasn't yet very proficient in English, and would decide to enter the MLB draft.
Albert Pujols went professional quickly after playing some college baseball
Albert had been playing shortstop in college ball. He was clearly built too large to be a shortstop. Also, people still didn't believe him regarding his age. A Tampa Bay scout quit his job he was so angry the Devil Rays didn't draft Albert. But the Saint Louis Cardinals did draft him, but he was only the 402 pick in the 1999 MLB draft.
The Cardinals couldn't get Albert to sign right away. They'd offered him a measly ten thousand dollars. Albert knew he was worth more than that. He bid his time, played for some collegiate league teams, then the Cardinals came back at him with a fatter check, $60K, and Albert signed up.
Albert was persuaded to become a third baseman. Most players, if not all of them, start off in the lowest class A ball. Albert certainly did, and he performed too well for that level, and was advanced. But he won league MVP in his initial league of low A bass. Before his first year in minor league ball was over, he'd advanced all the way to triple A. He only played a few regular season games that year in the Cardinals AAA league, but he wound up in their post season, where he won post season MVP.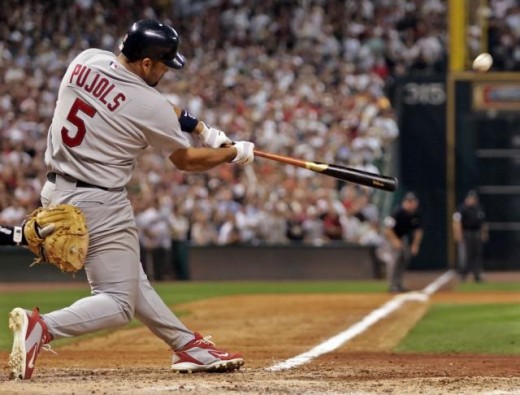 Albert Pujols -unanimous National League Rookie of the Year in 2001
There are a few different stories floating around as to how Albert Pujols wound up starting the season with the Saint Louis Cardinals in 2001. The story you hear likely depends on who you happened to have asked. Regardless, Albert was too advanced a hitter to stay another year in the minor leagues. One season was plenty.
By the end of 2001, everyone who loved baseball then knew his name, and he was the unanimous National League Rookie of the Year award recipient. From there, he's just been more and more a legend. A Hall of famer, is what he is, and was from the very start. He made the All Star team as a rookie. His rookie season was more than good enough to win a league MVP some seasons. But in 2001 there were persons like
Barry Bonds
having career years.
Possibly the most memorable thing for Albert Pujols and for fans of baseball was what Albert did in the post-season of his rookie year. The Cardinals were in the play-offs, and in game 2 of the National League Division series Pujols hit a game winning home run off of none other than
Randy Big Unit Johnson
.
'The Sporting News' named Albert Pujols 'Player of the Decade'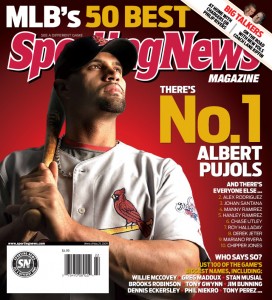 Albert Pujols, player of the decade
Now in Albert's rookie year he didn't have a dedicated position. He played some 3rd base, he played some 1st base, and he played in the outfield some. The Cardinals only knew they needed his bat in their lineup. There wasn't a player on their team who was weak enough for Albert to just up and take over their dedicated position, or job.
Regular starting players in the Major Leagues like to know where they are going to be playing. Not only that, they want to have a set position in the batting order. Pujols hadn't had those things his rookie year. But starting in 2002 he became the number 3 hitter in the Cardinals lineup, and he would stay right there the rest of his years in Saint Louis. The number 3 hitter is generally speaking the single best hitter on the team. It is a position of honor, and a position where there are loads of expectations put on you. Albert could handle it, and he made that clearer and clearer.
He spent most of the season in left field. These days people forget Albert had been a 3rd baseman and an outfielder. Pujols has a better than average throwing arm, and always did. He was never fast, but he was a 4 tool player, and no doubt about it.
Pujols has an awkward batting stance. It is unorthodox, and you wouldn't teach it to someone as the way to go about hitting. Absolutely no one is able to argue with the results. Somehow Albert Pujols was left off the All Star team in 2002. The next seven years straight he would be an All Star. In 2005, 2008, and 2009 He would win National League Most Valuable Player awards. His lifetime stats list is so full of pronounced and bold letters there are few other players with whom we can compare Albert to.
Albert played ten years with the Saint Louis Cardinals, and in that time he led the National League in runs scored 5 times. He led the NL in hits once, highest batting average once, doubles once, home runs twice, runs batted in once, on base percentage once, and slugging percentage three times. His elite level of offensive production is a statisticians dream come true for analysis. Offensively, he spent a decade being every bit as outstanding with the bat as
Roger Clemens
had been in his best ten seasons as a dominating pitcher. It's little wonder
The Sporting News
named Albert the
Player of the Decade
.
He eventually settled in as a first baseman. But this wasn't until 2004. Albert's first 3 seasons either set or tied most major records for players with such short careers. He would be increasingly rewarded monetarily for his productivity by the Cardinals management. He was the finest Cardinals player since Stan Musial. No less good with a glove than a bat, Albert started winning Gold Glove awards and Fielding Bible awards for his defense at 1st base. One factoid folks will often forget is Albert Pujols set a single season record for assists by a 1st baseman. He threw out 185 runners from 1st base in 2009.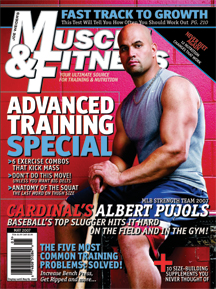 Did Albert Pujols use steroids?
Albert Pujols will never be free of the suspicion that his fabulous statistics were aided by the use of steroids. There has yet to be conclusive proof that Albert used steroids. He certainly can't be using them now, as the steroid days are over due to persistent testing withing Major League Baseball.
But did Albert use steroids? That depends on who you ask, as there is no evidence available at this time to prove he ever did. But he will forever, guilty or not, be under the suspicion. Because everyone else save Jim Thome, and Ken Griffey Jr., who put up the kinds of numbers Albert did in St. Louis was a steroid user.
A former Cardinals slugging star from before Albert's days on the team, Jack Clark, accused Albert of having been a steroid user on a local radio show. We all know people make false accusations against great people all the time. We also know a lot of people we think of as great at something or another, are in reality cheats of some sort or another. We never truly know what did or did not happen or how someone truly is or isn't unless we've seen it ourselves. Albert sued Jack Clark, and specified the undisclosed amount would be donated to a charity. Albert Pujols is a charitable person, and runs some charities. Jack Clark sobered up and recanted his accusations.
This still does not mean Pujols didn't use steroids. There won't be any evidence, one way or another. I like to believe Albert was always clean. No one but Albert knows. The very style of the radio show where Jack Clark made his statements from seems to suggest nothing more than 'shock jock' style of content. Such things can drive ratings upwards, or they can backfire, and that is what happened to Jack Clark, he was fired.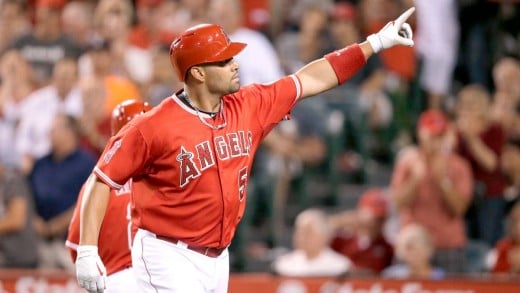 Albert Pujols signs with the Los Angeles Angels, operates a charitable non-profit foundation, and is a Christian
After helping to lead the Cardinals to two World Series, Pujols decided to change locations. His wife had said on a radio interview Albert had signed with the Angels because the Cardinals had initially only offered Albert a five year contract. The angels offered ten years, and over a quarter of a billion dollars.
In this world and in this nation, money appears to mean everything. Money is the god of the people here in the USA, or so it seems. But if you have more money, then you can also do more good, in a way, than can one with less money. Albert Pujols is a charitable man. So we should not rush into some sort of judgement on someone for the amount of wealth they either do or do not have.
The Pujols Family Foundation
certainly sounds like a very worthy cause.
This is as good as spot as there will be to mention Albert's Christianity. Albert Pujols is apparently a very serious Christian, but not in the in your face preachy sort of way. Anyone asks him or his wife about it, and they will speak plainly concerning their faith. The Pujols Family Foundation is a non-profit and not evangelical, but Albert's professions of faith are found on the website for anyone interested.
Albert Pujols with the Angels
Albert Pujols had a very rough start in the American League. It isn't too surprising. There were loads of things, surely, for him to get used to. New team, new city, new league - lots of adjustments to be made. So he started the season in a slump, but after a while, he returned to be the player everyone knew.
He also had another new challenge. He was on a team where he wasn't thought to be the best player. Albert had always been the best player on the Cardinals, from the day he got there. But for the Los Angeles Angels of Anaheim, California - there was someone thought to be even better than the great Albert Pujols. His name was Mike Trout, and he was thought to be the second coming of Mickey Mantle, a true five tool player. But this Trout kid was just a guppy compared to Albert, surely. By the end of 2012 they'd become friends and enjoy challenging each other for supremacy.
2013, however, would be the worst year of Pujol's amazing career. Albert had always played nearly ever game in the 162 game season for his team, but he couldn't even make 100 games in 2013. He suffered a season ending knee injury. Every great player has a season like Albert had in 2013 at some point or another in their careers. Albert had always been very fortunate to have avoided major injuries. As he advanced into his 30s, he would have something to prove.
Albert's high batting averages have dropped off considerably in the American League. But the levels of production he had set were herculean to begin with. His 2014 production would be considered exemplary for anyone except Albert Pujols. He drove in 105 runners. He hit 28 home runs. But he was only getting about half the bases on balls he used to get with the Cardinals, and his batting average was sagging down to normal slugger levels.
Albert's 2015 campaign would re-establish him as a major home run threat. He seems to have learned the American League. He hit 40 home runs, and drove in a very healthy 95, but his batting average sunk to the lowest of his career, he hit just .244 for the season.
What will Albert Pujols be like in 2016? Well, Nelson Cruz, for instance, had his best season last year, and he's roughly the same age as Albert Pujols. Perhaps the great Albert Pujols will rejuvenate himself, or perhaps he'll go into a slow decline. He'd be dangerous even were he 56 years of age instead of just 36. He is also an absolute shoe-in for the Baseball hall of fame in Cooperstown, New York, even were he to retire tomorrow, and that is simply not going to happen. I'm predicting a huge season for Albert Pujols in 2016, and you should be rooting for him too. Thanks for reading.