While either braving or enduring the elements for any reason, it's important to protect your feet from water. These are waterproof boots with outdoors sporting in mind. Fishermen and hunters certainly benefit from waterproof boots.
Optimum Protection The 18' Burly Air Grip Hunting Boot, by LaCrosse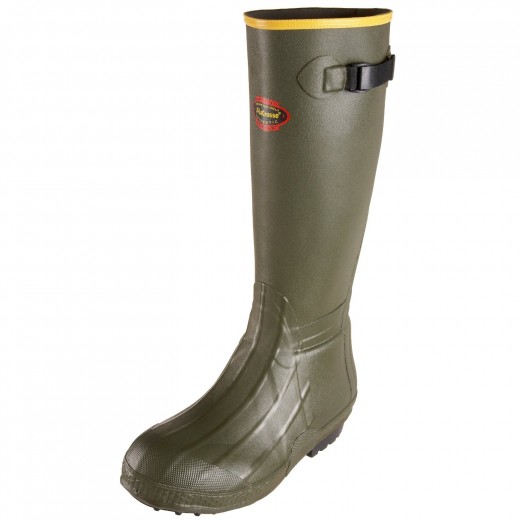 Men's Waterproof Boots For Fishing.
Here in Texas it's time for Winter crappie fishing, and before long at all the striped and/or sand bass migration to the creeks will be making us amateur bass fishermen and women as excited as we can be. Being properly dressed for the elements is always essential, and even though it doesn't always get so terribly cold here in Texas, we do occasionally have a long and hard freeze to deal with.

It doesn't much matter where you are and what kind of fishing you do - in Winter it's cold, and in early Spring it is often cold too. Even if it's not particularly cold, you still want a great pair of waterproof boots to wear when you go fishing.

Last Spring I just had a blast bass fishing in the nearby creek - it was spawning season for the sand bass, and at times with every cast I either caught a fish, or nearly caught one. Oh sure, a time or two the little swimmer was too little, and I returned the fish to the water. I intend to get that one this year! I had fun right up to the point when a large water moccasin slithered between my feet. At that point I realized that the Spring stream fishing season was past it's prime, and that soon there would be more and more snakes slithering around, and that the shock of one passing directly between my feet was just more trauma than fun.
That, without the thing striking at me.
Irish Setter Men's 860 Elk Tracker 12" Waterproof Lace-up Boot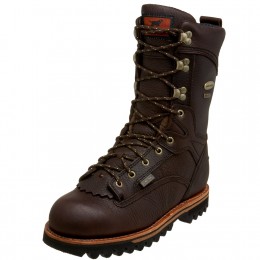 The 18' Burly Air Grip Hunting Boot, by LaCrosse
If I'd have been wearing a pair of 18" high waterproof hunting boots like the LaCrosse boot above, I might have just sort of kicked the snake into the water, or let him have a shot at biting through those things.
Not that any of that would be the least bit wise, but I'm still a man under 40 years of age. I'm not expected to be wise all the time.
Besides all of that, the hybrid striped bass in this area are big bass, and usually weigh more than five pounds. When you are fortunate enough to get one of those on your fishing line, you'd better have two things. First and foremost you'd better have some strong fishing line! Oh you might get one to shore with a six pound test line, but how will you get the fish out of the water? If you're doing it by yourself - the hybrid striped bass will most likely break your line when you try to get him out of the water, and will swim away laughing at you. You need a partner, generally, and one of you had best be wearing some high
waterproof
boots!
Someone will have to get down to the water line with either a net, or with their hands, and pick that hybrid striped bass up out of the water for the person that reeled it in to shore. You need some tall water proof boots for this, my friends.
Irish Setter Boots
I have to stop right here and get honest with you. I don't need for it to be a fishing trip or any pre planned or thought out reason for me to go stomping through the woods. I do that out of a sense of not being able to NOT do that. I LIKE to go stomping through the woods just to see what I can see, and I do it somewhat often.

In the past while just at someone's house I'd just go off looking around in the nearby woods. I live somewhat in the sticks, and one doesn't have to travel far to find even more rural areas. I like to dress in a utilitarian fashion, and be somewhat ready for work or for play at all times. These Irish Setter boots look like they are made for anything. In my mind, those boots just look damned NICE. I'd wear those just about anywhere. In rural Texas, those boots are acceptable in any sort of situation. I mean, their pretty even to my eyes, water proof, and I could go from in town at someone's home to the creek bottoms in those things. I'd only be more concerned about keeping those looking so fabulous. In any case, your feet are protected from the elements in style!
Danner Men's Striker II GTX Uniform Boot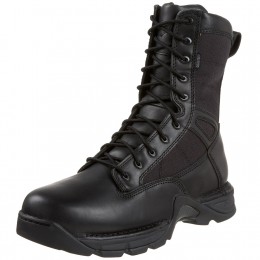 Danner Boots
Looking through men's hunting and/or fishing waterproof boots, LaCrosse and Irish Setter brand boots stand out, but there is another brand that makes a great waterproof pair of boots for outdoors-men, and that is Danner brand boots. Danner makes a large variety of military, work, and outdoors style boots, and all of them look terrific.Personally, I'm the type of person that falls somewhat in love with a prized pair of boots, and will tend to wear them every single day for nearly any occasion, but with these types of boots, you shouldn't do that unless you're just that fond of the specific look. Should you only wear them out fishing or hunting, then I'd suspect that any of these would last you many years, if not an entire adulthood.

No matter your style or preference, we can't much get around so well without our feet, and I hope that myself and the rest of you out there are able to enjoy the out doors, and keep your feet protected from snakes and the elements!