Father and Son, Cecil and Prince Fielder.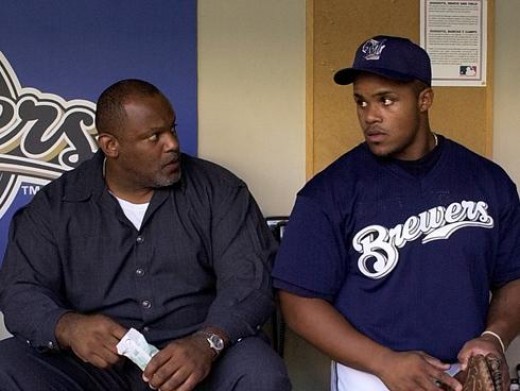 Probably most people, when they think of legacy players, think of Barry Bonds. Now I'm young enough that I never saw Bobby Bonds play. Actually, Barry Bonds' first season was the first season I watched major league baseball. So for someone in my age bracket, and someone who forever was watching American league baseball, and living in my locality, when you think of legacy players it is all about Prince Fielder and his father, Cecil Fielder.

The year I started watching major league baseball on television was 1986. That was right about the time steroid use was starting to become something common in the big leagues, and it was just before the steroids became accepted. If someone hit forty or more home runs in those days, the man was considered to have some true and amazing power. There was nothing more exciting to me than to see a home run, even from the other side of a television screen.
Cecil Fielder takes a cut with the Detroit Tigers.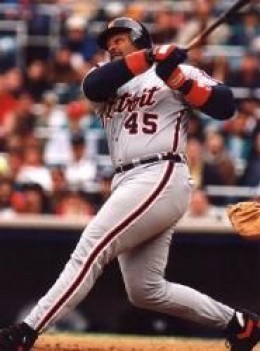 The Mighty Cecil Fielder.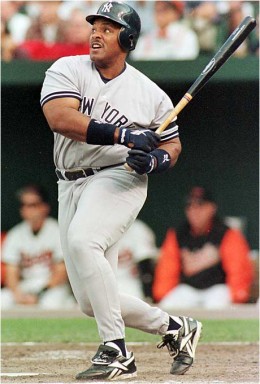 Cecil Fielder was a major league baseball pioneer.
Cecil Fielder was a pioneer in a lot of ways. He may not have been the first guy to go from the major leagues to Japan, or he may have been the first guy. What I know for sure is he's the first person I ever heard of to quit the Major Leagues and head off for a Japanese baseball adventure. He went, he kicked ass, he came back as a changed man. When Cecil Fielder came back to the major leagues after tuning up his hitting abilities in Japan, there were a lot of questions.

People would say the pitching quality in Japan wasn't nearly as good, as the Japanese are often smaller built men, they can't throw as hard as the Americans can, and besides all of that, Cecil Fielder, he's just got a slider speed bat anyway. I assure you the quality of the insult given when someone is said to have a slider speed bat may be lost on some, but it isn't lost on the real hardcore baseball fans, surely it wasn't lost on Cecil Fielder either. That descriptive insult is huge. What is being said is 'you have something to prove.'
While in Japan Cecil made a lot more money than he had been making in the USA, and he got to play every day too. Of course it was hard on the guy trying to learn to get along in a foreign culture. But baseball is entertainment, and the Japanese may love the game more than the folks here in the US do these days. When you can hit a ball further than anyone else can, as Cecil Fielder could do - you're going to have a lot of fans, and he most certainly did.

While he only spent one season in Japan, I think Cecil Fielder brought a lot of awareness to the rest of us about the thriving baseball game in Japan, and since Cecil Fielder did it, a lot of others have gone to Japan to try to bring their Major League careers back to life. Some have also done quite well after returning from Japan, but nobody returned from Japan bigger than Cecil Fielder did. I'm not talking about his size here, I'm talking about the improvement in his performance and ability. Oh, and he grew in size too. Six foot three and with a big, thick build, Fielder had been listed as low as two hundred and thirty pounds. Nobody ever believed any of that, the numbers on the back of baseball cards were always a joke. He surely weighed around 300 pounds, and he surely could and did hit some very far home runs.

That video above where Cecil Fielder hits a roof shot at the old Tigers stadium, I was watching that live when it happened. By that time in baseball you had the steroid guys coming into the game, people like Jose Canseco were a big draw everywhere for tv and for stadium attendance too. The thing about both Cecil and Prince Fielder is this - nobody has ever once considered that either of those two were juicing steroids to hit for power. People would likely have fell into bursts of laughter in the presence of anyone who'd expressed such a ridiculous thought.

The first three years Cecil Fielder spent in the major leagues after coming home from Japan were three of the best power number years a player not on steroids would put up for a long time to come. He'd lead the American league in runs batted in those three years in a row, and the first two years he led the American league in home runs too. Those fifty one home runs the man hit in 1990 made for the first 50 home run season by anyone since 1977. Oh hitting 50 home runs would become cheaper due to the use of steroids very soon; but Cecil didn't need anything illegal to do it. He was a big, big man - proving to the world that his slider speed bat was all he needed, and all everyone wanted to see.
Prince Fielder takes a cut for the Milwaukee Brewers.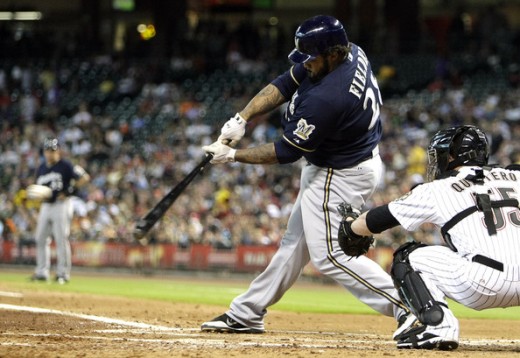 After a number of great to good seasons with the Tigers, Cecil would go on to the Yankees for a while, and then bounce around a bit before retiring with 319 home runs and 1008 runs batted in.
Obviously, Prince Fielder grew up around Major League baseball, and from a young age was a person familiar to players, managers, coaches, announcers and writers. All these baseball big shots knew who he was before he was ever a baseball prospect. All of this is wonderful stuff, really; but at one point or another Prince started to feel like his becoming a baseball prospect was due to his father's influence. Prince wanted to stand on his own, and of course he's proved himself time and again now. Sons and fathers don't always see things eye to eye, and they are individuals.

Back to Prince Fielder the child who got to hang out with Major League players and coaches and managers, etc. Prince's legend begins at twelve years of age. He's hanging out with the team, he takes batting practice even, and at twelve years old Prince Fielder hits a ball into the seats of a Major League ballpark. Now the legend of this happening is disputed some, but here's someone every major league baseball lover knows saying he saw it happen.
Prince Fielder takes ferocious swings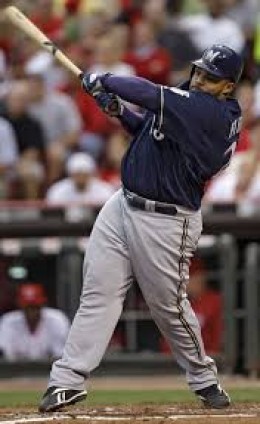 Prince Fielder with the Detroit Tigers.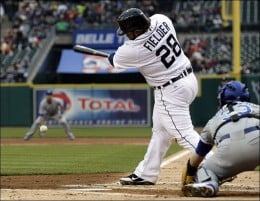 Prince Fielder and the legacy of power.
Prince Fielder is four inches shorter than his father, but he weighs in about the same as Cecil did during his prime. Prince is stronger than his dad. Prince may be large, but he's as powerfully built as they come. He's a guy who can hit a baseball six hundred feet, and you can keep those steroids, Prince never needed anything like that.
He was a first round draft pick in 2002 coming straight out of high school. So often when someone is drafted that highly out of high school they never live up to any of that hype that comes with it. Then, there are men like Prince Fielder and
Clayton Kershaw
, people who proved to have not been drafted out of mere hype.
Prince didn't spend much time in the minor leagues, he debuted in the majors in 2005. Of course he was brought up in 2005 to get a taste of the major leagues. In 2006 he got the first base position and the whole season at it to prove himself, and prove himself he did. There was never any doubt what sort of player Prince Fielder would be, and so the power numbers were never a surprise. What was a surprise was what an amazing season Prince would have in 2007, when he hit fifty home runs, to join his father in the exclusive fifty home run club.
The fifty home run club becomes a LOT more exclusive once you narrow it down to the players to achieve such numbers without the use of anabolic steroids. Prince had another solid power hitter's season the next year, but his best year to date was in 2009, when he led the national league in runs batted in while hitting forty six home runs. While the power combo of Prince Fielder and Ryan Braun fueled the Brewers offense, Braun was later found to be a steroid user. I'm sure it was all fun for the both of them, and I seriously doubt Prince Fielder looks down on persons using things to try to be what he is naturally.
After very successful seasons with the Brewers Prince became eligible for free agency, was using the most high priced and demanding agent in baseball, and signed a huge contract with the Detroit Tigers. You can be sure the fan response in Detroit, the city where his dad was so loved and had his best seasons, was huge. While Prince didn't have the kind of power seasons he'd had in Milwaukee, his presence improved the Detroit offense through more means than his numbers suggest. You could ask Miguel Cabrera about that, and he'd tell you having Prince bat behind him improved his lot in life, and the Detroit offense considerably.
Prince Fielder with the Texas Rangers!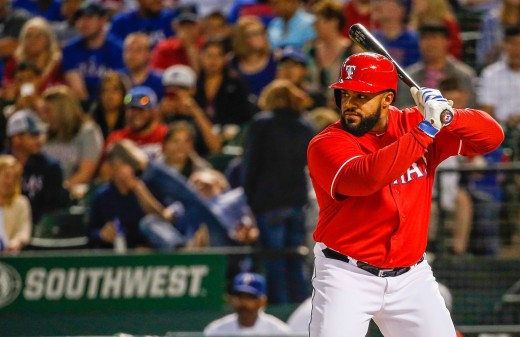 When you make twenty four million dollars per year you are going to be criticized very thoroughly, and that is just a fact of life in professional sports. Prince Fielder was traded from Detroit for the simple reason that Detroit didn't win the world series in Prince's final year there, and Prince didn't have a great post-season. In fact, he had a poor post-season.

His power numbers were declining from what they'd been in Milwaukee; but the American League is a tougher league to play in. Most likely of all, the neck injury which caused Prince to miss most of his first season with the Rangers, and to break his iron man streak of games played was already a factor with his performance in Detroit.

Prince Fielder is a big, BIG man. He's not slow, he's hit two inside the park home runs in his career to date; and absolutely nobody in the Major Leagues will get in his way when he's running. So Prince is unbelievably stocky, he's not the most laterally quick man at first base. He is, however, a man who when healthy can absolutely be counted on to show up, dress out, and be ready to take the field with a good attitude along with him. So he's primarily a designated hitter now, but this isn't his desire, and Prince will not shame anyone should he be penciled in at first base..

In the 2015 season with Texas, there were times Prince Fielder led the entire American League in batting average. Prince is an intelligent man, and so he's done what all Major League baseball players have to do to survive, he's adjusted. No longer trying to pull balls on the outside corner, Prince started dumping them over the shortstop's head as if he were Wade Boggs. He'd missed almost the entire previous year, he won American League comeback player of the year.

In 2016 we watched Prince struggle. It was terribly sad for me. I was rooting for him as hard as I could, and he did have some great moments. It seemed clear there was something wrong with him though.

With the new technology in place where we can know the exit velocity of balls right off the bat, it looked like Prince was fine because he was hitting balls one hundred and ten miles per hour. That was the exit velocity. But he couldn't pull the ball in the air, and pulling the ball in the air is how you hit 50 home runs, as Prince had done years ago. Well, Prince wasn't complaining of injury, but he was injured again.

He had to have season and career ending surgery, another disk fusion surgery in his neck. His doctor advised he was no longer capable of playing baseball. So Prince ended his career tied with his father in home runs. We wish him well and we miss him.