Deep Ellum is a historic arts and entertainment district near downtown Dallas, Texas. I've been there more times than I could ever recall, and hope to go many more times as well. Here is some history of Deep Ellum, some stories, and some pictures of it as well.
Deep Ellum
Deep Ellum is a district near downtown Dallas, Texas that has a lot to offer in the way of entertainment, food, shopping, and fun for anyone visiting Dallas, Texas. Deep Ellum has long been a place for parties, drinks, live bands, tattoos, and awesome cuisine; but it's also a great place to run a business, work, or live.
I suppose that it should be sort of obvious that "Ellum" isn't a real word. Deep Ellum is a corruption of Elm Street. I personally used to work in Deep Ellum, but not for a very long time. I walked there from where I lived on Reiger Avenue. It's pretty dang cool to live within walking distance from one of the best areas for entertainment in the entire Dallas and Fort Worth Metroplex. It's only not advisable for even me to be walking between Deep Ellum and the residential areas of Old East Dallas late at night. I'm far too stupid to be afraid. I'm also usually sort of prepared for anything outside of a gun battle.
Deep Ellum has ALWAYS had the same reputation that it has right now. In 1937 some random newspaper columnist had the following to say:
...[the] one spot in the city that needs no daylight saving time because there is no bedtime...[It is] the only place recorded on earth where business, religion, hoodooism, gambling and stealing goes on at the same time without friction...Last Saturday a prophet held the best audience in this 'Madison Square Garden' in announcing that Jesus Christ would come to Dallas in person in 1939. At the same time a pickpocket was lifting a week's wages from another guy's pocket, who stood with open mouth to hear the prophecy
Deep Ellum Wall Art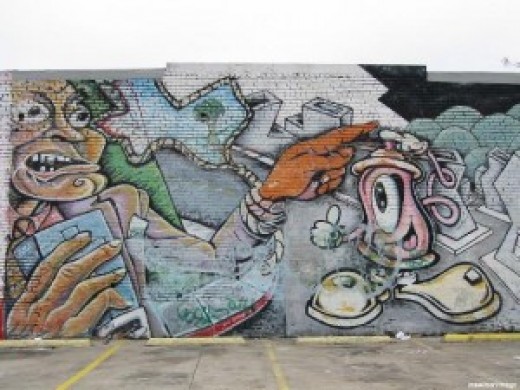 Deep Ellum Music Scene - Jazz and Blues.
At one time Deep Ellum of Dallas, Texas was considered the premier hot spot for both Jazz and Blues music in all of the Southern United States. Famous blues men like Robert Johnson and Huddie Ledbetter played here, and wrote songs about the place. Not to be outdone by the men, Bessie Smith
The Empress of the Blues
often played in clubs such as
The Harlem
and
The Palace
.
I do have to add though - that I've never heard a song about Deep Ellum that didn't involve some sort of something that could be taken as a warning for the wise - concerning tomfoolery, trickery, thievery, and drug dealings in the area.
Once during a lunch break from repairing air conditioning problems for the Dallas Independent School District, I returned to my truck to find some slob of a human being trying to pilfer
taxpayer
bought parts out of the back of my truck. I didn't call the police, I just started insulting his mother and screaming at him. He left.
Another time I went down to Deep Ellum for something or another on a weekend night. When I decided to leave I saw that the gas cap had been opened on my car, and I was a few gallons of gasoline shorter than I was when I'd got there.
The Bridge At Deep Ellum - Dallas, Texas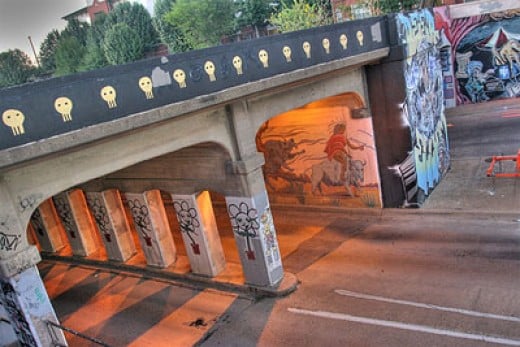 Texans Still Love Deep Ellum
From Warehouses and Factories To Clubs and Lofts.
In the late 1880's the first cotton gins and warehouses were being built in Deep Ellum. In 1913 Henry Ford built a place for assembling the Ford Model T. In 1969 Central Expressway cut through Deep Ellum, and the spot has been a booming attraction for locals and tourist alike ever since. Oh certainly - there have been some periods of great big ups and slow decline, but Deep Ellum just won't die out. Dallas would be foolish as a city to let it ever go completely - there's too much history here for arts and entertainment.
By the late
1970s
the industrial parts of The Deep Ellum were giving way to artists who came for the (then) low priced lofts. There are lots of art shops in Deep Ellum, and at least one of them is guarded by
an Iguana
that looks about the size of a Komodo Dragon. The owners sometimes put that thing on a leash and walk it down the street.
Deep Ellum just has an unassuming and semi Dangerous vibe to it. By the time that the Punk Music scene was forming, bands such as The Dead Kennedys, Black Flag, and The Meat Puppets were playing in Deep Ellum.
What has always been the unseen hand in Deep Ellum is it's the part of Dallas where "white" meets "black" - and it's the friction and the driving force of it all there. Since Bill Clinton sabotaged Mexico's economy with NAFTA, which resulted in the huge mid
1990s
immigration North - Deep Ellum now has lots of Tex Mex cuisine, and a new tri cultural vibe to it.
Clubs In Deep Ellum - Nearly EVERYTHING Is Painted.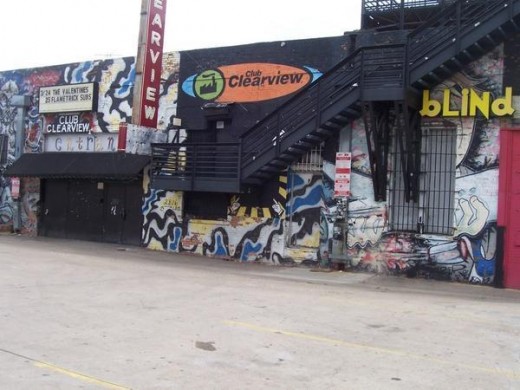 TREES in Deep Ellum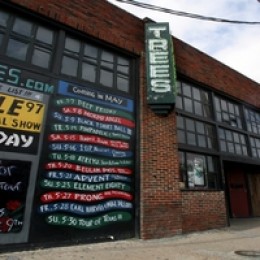 The Dallas Bomb Factory - Deep Ellum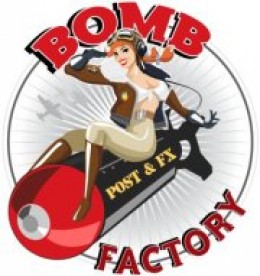 Recessions and Rebirth in Deep Ellum.
When I got out of high school in 1992 everyone was already going to Deep Ellum on either Friday or Saturday nights. I've never once in my life had a friend killed on the highway between Dallas and Kaufman from a drunken driver or anything else. America is not a land of freedom, it's a land with an ethnic monopoly on mass media that sells greed, sex, fear, and lies. Typically, you have to be a moron to get pulled over on a trip from Dallas to Kaufman at late nights. I've been a moron, and the only times I've been pulled over where the times I was being a good driver.
The best concerts that I've ever seen were in Deep Ellum and in the mid
1990s
, they were acts like Tool, Danzig, Type O Negative and Sepultura. I went crowd surfing in
Trees
once and landed on my back on the concrete. The Reverend Horton Heat was singing a song called
Two Hookers And A Bag Of Crack
.
Later on people were cruising Deep Ellum, and once I had a brand new pickup and could make out with future porn stars, or models - simply for looking like some sort of Urban Cowboy with a crew cut, a new Ford, and a job - all in Deep Ellum, and very spontaneously. Deep Ellum got to be such a hot spot for a while that everyone who was anyone or thought that they were was there every weekend - and then came the panhandlers, the wanna be gangstas, the drug dealers and the muggers and rapist. The streets were blocked off on Weekend nights, and you could only walk through there to the near 60 clubs, art shops, thrift shops, tattoo shops, smoke shops, clothing stores, restaurants and clubs. Everyone got scared, and nobody went there at all until the city took action and made the place safe for rich white girls from the Park Cities.
We've hit global depression now due to absolute fascist corporations based out of America, and the citizen's total karmic disregard for much of anything outside of the filth pushed by mainstream media; but when TREES was re opened in 2009 a local paper had this to say:
We reopened this venue in August of 2009. We completely renovated the inside, brought the building up to Dallas code, and installed a new fire suppression system. The Deep Ellum area has been a music focal point in Dallas for many generations. In the future we would love the opportunity to continue to provide a place for people to see live music and a location for musicians to perform.
We believe this is a land use that people want in the Deep Ellum area and the land use that Dallas has come to expect and enjoy in Deep Ellum.

Despite it all Deep Ellum lives on for those who can afford to go there and do something. I wish now again that I lived withing walking distance as I did in 2009. Forever in my mind are the dozens of bare breasted women wiggling their stuff at the Bomb Factory while Glen Danzig and Peter Steel screamed Goth Punk Metal into the Dallas' November's night.
The Famous Deep Ellum Robot, Dallas, Texas