A Great Rifled Barrel Shotgun For Less Than $300.00
I'm becoming more and more enamored with guns, and the out doors. I'd first got into guns, shooting sports, and hunting at a very young age, and then I just got out of it. I became something of a bookworm with a rabid affection for baseball. Nowadays, I read less, but probably think more. I also still enjoy baseball, but because of the good investment value provided with ownership of firearms, I want to own more of them. I used to own stocks in various companies; but it would have been wiser, in the end, had I invested in more guns. There is also, of course, the patriotic thing to do; we must simply scream, and continually scream louder ever time someone tries to encroach upon our Constitutionally provided rights, and of course, this includes the right to bare arms. These things, our rights, are not to be taken lightly at all.

High on my list of high cost to value guns is anything by Harrington and Richardson, otherwise known as "H & R," they just make great guns for a low price. These are all affordable, and worthy investments that also make great hunting companions. I own a Harrington and Richardson single shot shotgun since I was twelve years old. I know these are good guns for use, or just for investments. I paid sixty five dollars for the single shot, and now it sells for two hundred bucks; that's a nice, safe, profitable investment!
The H & R Pardner Pump Shotgun.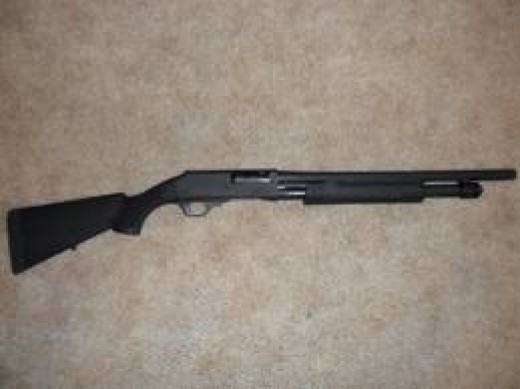 The H & R Pardner Pump Shotgun
If you think that the H & R Pardner Pump Shotgun looks very similar to a
Remington
870 Pump Shotgun, well, you're onto something with that. The gun is so similar to the Remington 870 that legal action was going to be considered as a recourse for this faithful reproduction up until the same company bought out the both of them. If you're a poor boy like myself, then that was a good thing, as the made in China H and R is a wonderful gun for the money, and you are probably finding less money in your pockets these days. Sure, if you can buy American, then you should do so whenever you can. With the H & R you are looking at a savings of about $20 to $50 bucks.
Having not field tested one of these on my own, I can leave you with the complaints of the
Outdoor Life
reviewer, and his or her expressed thoughts, "
wish it had a better trigger
." The trigger pull weight is reported to be six pounds and thirteen ounces. As a slug gun, this shotgun features a rifled barrel, and works as a rifle in a pinch. My first thoughts when reading about this thing were that it would make a wonderful gun for
hog hunting;
and as was further reported, the accuracy at a hundred yards with slugs was great. One must realize that as a rule, firing slugs from a shotgun is going to be a universally high recoil proposition, and that there are after market remedies and products for that. The gun comes with Cantilever extensions and Weaver style mounts provide for adding a scope on top with ease. Priced to sell at $296 dollars, this gun cost less than most rifled barrels do all on their own. I want one, and the value for the money on this great shotgun is going to be tough to beat.