Cy Young winner Dallas Keuchel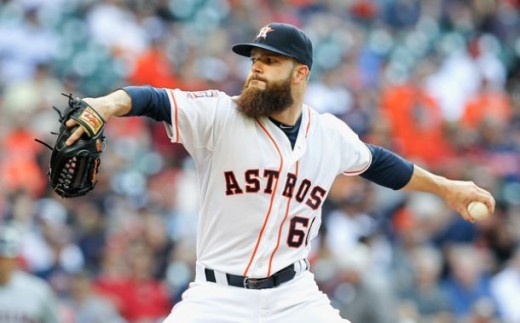 Dallas Keuchel - extreme ground ball pitcher
The Houston Astros had a great team in 2015, but Dallas Keuchel was a force of nature. Oh, he won the American League Cy Young award, and he deserved it. He led all American League pitchers in a number of categories, most importantly and most impressive, was he had 20 wins. While 232 innings isn't so impressive, pitchers used to throw a lot more innings than that in a year, his 232 innings led the American League, as the age of the well developed and highly specialized bullpens are upon us.

It isn't surprising that Dallas Keuchel also led the American League in batters faced, but then again, maybe it is. Pitching the most innings doesn't necessarily mean you faced the most batters. Dallas had a sparkling earned run average of just 2.48, and a WHIP 1.017, and the WHIP score was also best in the American League, though the earned run average was not.

Dallas Keuchel struck out over 200 batters, and 200 batters as your total for strikeouts is the low or bottom mark for power pitchers. Keuchel is not, however, thought to be any kind of power pitcher, he's thought instead to be an extreme ground ball pitcher, he just also winds up getting a lot of strikeouts. His 2015 total of 216 strikeouts was less than one per inning, but when you have good stuff you wind up getting swings and misses, even when your goal is maybe to have the batter ground out with a choppy ball to second base, or short-stop, or either other extreme position on either side of the diamond.

Modern thinking about pitching values ground balls over strikeouts. It is typically easier to get a grounder to the infield than it is to get a strikeout, for a strikeout takes at least three strikes. The easiest out is a ground ball out on the first pitch. With the sinking fastball, the pitcher is always one pitch away from an easy out. The four seem fastball is different, as you can get more velocity with it, and the ball tends to stay high in the strike-zone. The four seem fastball is more likely to result in a high swing and miss strike, strikeout, or fly ball. Fly balls can be home runs, or doubles, so you see the idea here.
Dallas Keuchel in his Bishop Kelley High School uniform
Dallas Keuchel, high school, college, and minor league pitching career
Dallas Keuchel wasn't always a Cy Young level left handed starting pitcher. He was a kid from Oklahoma, and he'd attended Bishop Kelley High School there. He was a fine athlete then too though, and he helped lead his high school baseball team to the state championship. Baseball was not his only sport though, he played basketball and football too in high school, he was both a point guard and a quarterback. He always had a great throwing arm.

Dallas then went on the the University of Arkansas. He was not an impressive pitcher his freshman year in college. His sophomore year was better, but still not so noteworthy. By his junior year in college, Dallas Keuchel was starting to look like he'd make for a professional pitcher. He was drafted by the Houston Astros in 2009, and in the 7th round.

He started, of course in A ball. There are multiple levels of class A minor league ball playing, and he advanced through those to AA in short order. By 2011 Keuchel would be promoted to triple AAA ball. He would start the 2012 season there too;but he was called to the Major Leagues in mid Jude to make his Major League debut against the Texas Rangers.
Dallas Keuchel in 2012 with the Houston Astros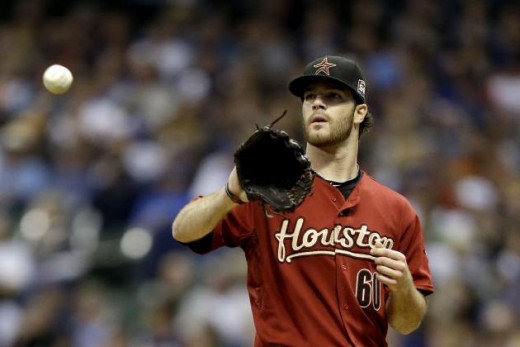 Dallas Keuchel's first two Major League seasons were very very bad
While Dallas Keuchel's rookie season statistics look pretty horrible, he did manage to throw a complete game in his second start. So he showed some promise, showed some potential. It is always thought to be pretty terrible when someone walks more batters than he strikes out, and that is what Dallas did in his rookie season. He also had an atrocious earned run average of over 5.

But things would improve. Dallas would improve. But the improvement wouldn't come the next season, Keuchel was basically bad then too. While his earned run average was slightly better in his second season, it was still over 5 earned runs per 9 innings. Those sorts of numbers won't keep you in a Major League starting rotation for long, but the Houston Astros weren't much of a team at the particular point in time either.

In fairness to rising star, 2015 American League Cy Young winning pitcher Dallas Keuchel, he made great strides in 2013. He walked a far lesser percentage of batters, and his strikeout rate per 9 innings also increased significantly. But his won loss record was a very poor 6 wins and 10 losses, but such is what you would expect from a pitcher with an earned run average of 5.15. It would be the next season, 2014 when Dallas Keuchel would prove himself someone worthy of being a starter in a Major League starting rotation. Maybe it was the beard?
Dallas Keuchel in 2014 - He had a breakout season that year, and improved more still the next season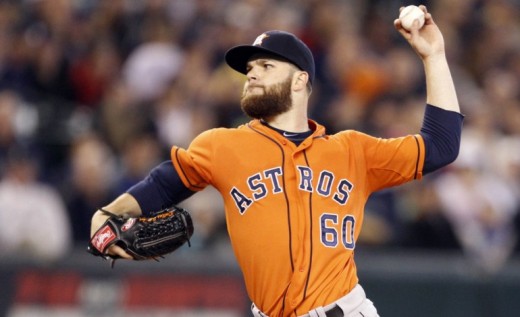 Dallas Keuchel works very hard, and in 2014 he showed he could be the staff ace for the Astros
Dallas Keuchel came from a good family. They were never rich, but they weren't poor either. When Dallas pitched poorly, he knew it, and he felt it. He was driven to shine, to do his best, to be good at what he did, regardless of what he was doing.

To be a great, or even a good pitcher in professional baseball you have to have a strong competitive fire. Dallas has that, and you can see it in the way he's improved constantly through every season he's played in professional baseball.

He's a sinker and slider throwing pitcher. That's a common thing. Nothing new or exciting about that assortment of stuff, but Keuchel has developed extreme control over his pitches, and one thing that doesn't get talked about as often is his fielding. He's a Gold Glove, and Fielding Bible award winning fielder at the position of pitcher. He's like Zack Greinke in that, with Zack or Dallas, you've got one more outstanding glove man on the infield.

Dallas Keuchel is a meticulous worker. Everyone sees how hard he works and prepares himself for his next start. He prides himself in pitching innings for the team. He doesn't want to be taken out of any game. He threw his first 200 inning year in 2014. It was clear to everyone that he was becoming an ace.

Dallas stands six feet and three inches tall. So he weighs around two hundred and twenty pounds too. He's got the big frame to pitch a lot of innings for his team, but the frame size isn't enough, of course. You have to be in shape for the job. Dallas Keuchel was never the guy to light up the radar guns, despite his large size. He has, however, been increasing his velocity. While he used to average 88 miles per hour with his sinking fastball, he now has ramped the pitch on up to 93 miles per hour.

Dallas would finish the 2014 season with impressive statistics. He'd post a winning record of 12 wins and 9 loses. He pitched 200 innings exactly, and would have an earned run average of just 2.93. He was clearly becoming a legitimate Major League staff ace.
2015 American League Cy Young award winner for the Houston Astros, Dallas keuchel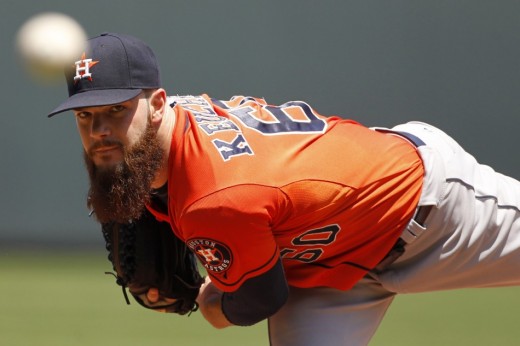 Dallas Keuchel wins the American League Cy Young award in 2015
In 2015 Dallas Keuchel would post ridiculous statistics playing at home in Houston's absolutely gorgeous Minute Maid stadium. He'd go 15 wins, and not a single loss pitching at home. Of course he won the Cy Young award in the American League, and were the Houston Astros still part of the National League as they had been before, he'd maybe have beaten out Jake Arrieta for the award there.

He started the season great. He won American League Pitcher of the Month for April. He won the award the second straight month, in May. He was selected for the All Star team, and chosen for the honor of starting pitcher for the All Star game. Later on, he won a 3rd Pitcher of the Month award in August.
The Astros made it to the playoffs, but just barely, the won a Wild Card spot, and gave the ball to their now ace, Dallas Keuchel, who promptly pitched a winning game for them. and he did this on 3 days rest, shorter rest than one typically gets between starts during the regular season. When you are the staff Ace, you are called upon to do such things at times.

Keuchel had won both the Gold Glove and the Fielding Bible awards in 2014. Well, he won both awards again in 2015, and also the most prestigious of pitching awards, the Cy Young.

You could never say Keuchel was a disgrace, but he went from a bad starting pitcher to a Cy Young winner in not too many seasons, just as had Jake Arrieta, though Jake's transformation required a change of city and team. How did Keuchel do it? He only has marginally impressive pitching stuff. Loads and loads of other pitchers have pitches even better than his, but they haven't thrived as Keuchel has, so what gives?

Keuchel has impeccable control. This is something he developed over time, and with dedicated work. As was mentioned, he walked more batters than he struck out his first season in Houston. By 2015, those walks were something Dallas Keuchel rarely gave to hitters. Priding himself in pitching lots of innings for his team, having control, and great control is something he had to have, so he's learned it. He Led the American League in total innings pitched last year with 232 total innings.

You get to pitch deep into games by getting quick outs with sinking fastballs which are hit into the dirt to the infield. Dallas throws his best fastballs to the inside portion of the strike zone in order to establish power in the minds of hitters, then he paints the corners , the outside portion of the strike zone with breaking balls, mostly, this means his slider. Dallas also commands a good change of pace, or change up.

Dallas Keuchel did not lead the American league in earned run average in 2015, but he posted a sparkling earned run average of just 2.48. He led all American League pitchers with 20 wins, and he also struck out 216 batters. What can we expect from Dallas going forward in 2016? Lots and lots of ground ball outs, lots and lots of innings, and one fierce bearded dude throwing well controlled pitches with his strong left arm. I wish him the best, and so should you. Thanks for reading.