The Legendary Power Hitter, Jim Thome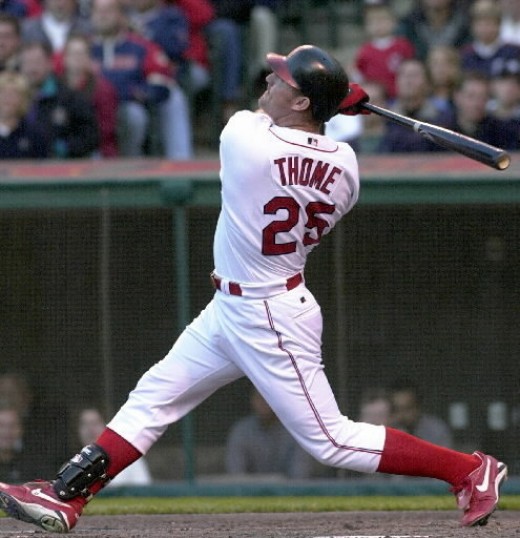 Jim Thome isn't eligible for the MLB Hall of Fame voting for a few more years, but he will be voted into the baseball Hall of Fame. He should be voted in in his first year of eligibility. My guess is he will be. Were I given a vote, I'd vote for Jim Thome.

Jim never once won a league Most Valuable Player award. He probably should have ranked higher for that award a lot of years than he did. There was the 2002 season where he especially could have been voted as a league MVP, but wasn't. The greatness of Jim Thome wasn't in any particular season, it was a consistent greatness. Thome was as reliable as the sunshine for a lot of years, and his presence absolutely made a difference.

Another problem was he didn't get to play on a lot of winning teams, and when he did, he didn't particularly shine in the post-season spot lights. Those post season teams though, they wouldn't have ever got to the post season were it not for the intimidating and reliable power bat of Jim Thome being a part of them.

The elephant in the room, any room involving a discussion about the merits of Jim Thome's career is the steroid elephant. Never once was Jim ever thought by anyone to have used any sort of performance enhancing drug. Jim never needed any of that stuff, and the persons who overshadowed him in his career with more impressive statistical seasons, those persons were often on the who's who list of steroid offenders. So you look at Jim Thome, and you have to realize he competed against persons who were proven to have cheated.
Big Jim Thome at the plate with the Cleveland Indians.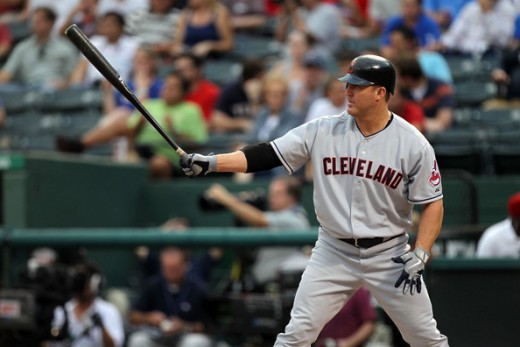 Jim Thome's Hall of Fame baseball statistics.
First and foremost, you think of Jim Thome, you think of all his home runs. Thome's home runs are not tainted in any way by the use of steroids, and even if they were, they'd be hall of fame worthy numbers. His home run total of 612 is enough in and of itself to warrant Jim's inclusion into the baseball Hall of Fame. He ranks, currently, at seventh place on the all time list. Two of the persons higher in the all time home run rankings were undoubtedly steroid users. Alex Rodriguez certainly was, as was the all time leader, Barry Bonds.

The baseball Hall of Fame may as well retire itself should either of those players not be included, and so Jim Thome is in the inner circle, the upper echelon of all power hitters in the entire history of Major League Baseball. Jim batted in 1699 runs during his playing days, and this ranks him, currently, 25th on the all time list. One wishes he'd have batted in just one more, so as to have an even 1700. The only players above Jim on the RBI list who aren't in the Hall of Fame are persons currently disdained for using steroids, which Jim never used. Rafael Palmerio is all the way up to 16th, and he's apparently not going to ever be included. The RBI totals for Thome are higher than persons already in the Hall of Fame, persons like the great George Brett, Harmon Killebrew, and Mike Schmidt.

Jim Thome hit for a very very respectable lifetime batting average of .276. This statistic may surprise people, really. But it serves to show Jim was more than merely a legendary slugger. In 1995 Jim hit for a .314 average. Three times Jim hit over .300 for a season. His career on base percentage was .403. You can't argue against an OBP that high. Then, there are the walks. A very disciplined and selective swinger, Jim's 1,732 walks are good for 8th best all time.

So you want to compare Jim Thome to somebody who is playing the game today? There is no one better, maybe, than David Ortiz. The man almost universally known as Big Papi will retire after this season with fewer home runs than Thome, and possibly fewer runs batted in too.
The designated hitter controversy
Jim Thome was a designated hitter. Yes, this is true. But the time Thome spent as a designated hitter is minuscule when compared to the amount of time he had spent at first base. He shouldn't be thought of as a designated hitter in the way one thinks of David Ortiz as one. Ortiz spent almost all of his career as a designated hitter, whereas Thome played around two thousand games as an infielder or outfielder even.
So there is no designated hitter controversy. Jim Thome was primarily a first baseman. Excluding him from the baseball Hall of Fame for serving as a designated hitter late in his career is illogical.
Jim Thome catches a throw at first base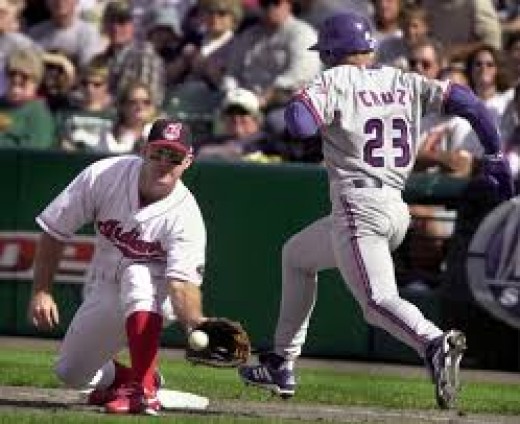 Jim Thome and the Three True Outcomes.
Was Jim Thome a 3 true outcomes player? Well, yes and no. As happens so often, you can't lump someone into a category so easily. As someone who retired with a .276 batting average, you'd think you could mark Thome off the three true outcomes list.

But you can not. Jim led the league he played in in strikeouts 3 times. In 2001 he struck out a whopping 185 times. He did hit 49 home runs that year. That was certainly a 3 true outcomes year, especially when you add in the 111 walks.

2001 wasn't the only year you'd say was a 3 true outcomes year for Jim Thome. 2003 was maybe more of the kind of season you look for, as in 2003 Thome led the National League in home runs and strikeouts Just as in 2001, Thome had 111 bases on balls in 2003.

Now Thome did lead the league he played in in walks in some seasons. All three times Thome led the American League in walks were with his Cleveland Indians. He topped out in walks in 1999 with a very impressive total of 127 walks. That same year he led the American League in strikeouts with 171. The season was a low season for Thome in his prime insofar as homers go, he had just 33.

About the home runs. Thome is a card carrying member of the 50 home run club. He hit over 50 home runs just once in his career, but he also had a season where he hit 49 home runs. Neither season did he lead his league in home runs. It was 2002 when Jim, with Cleveland, hit 52 home runs. The previous year he'd hit 49, and the season following, 2003, he led the American League with 47 home runs. One wishes we'd had a season when Jim led the league in home runs, walks, and strikeouts for the trifecta of 3 true outcomes, but it isn't particularly important.

Altogether with Thome we have 6 seasons of at least 40, or more home runs. Twelve different seasons Jim hit 30 or more home runs, and 9 seasons did he drive in at least 100 runs. Several were the seasons where Jim just missed the 100 mark, settling for somewhere in the 90's in runs batted in.

So Jim Thome is a 3 true outcomes guy most seasons. He isn't really the most sterotypical guy for the term though. You think of Adam Dunn, he's the total 3 true outcomes guy. We all hope, we true fans of the game, that Chris Davis, and Joey Gallo, or Kris Bryant, even, can have such a nice career as Thome, or Dunn, even.

You watch the career highlights video, you see Jim hit his 500th career home run, and the camera cuts to his mother and father in the stands. It is a touching moment. Jim Thome represents strong family values. He was the kind of role model America needed. He still is.
Jim Thome takes a huge swing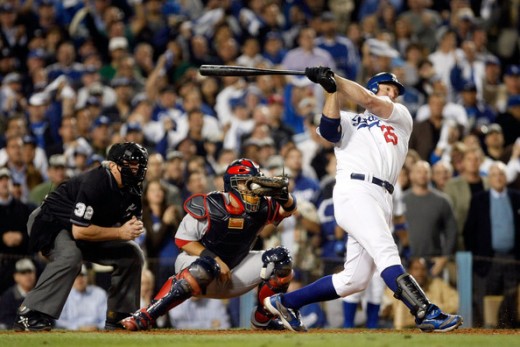 Jim Thome - a truly class act on and off the baseball field
There's no point in me doing a Jim Thome biography here when the point of my page is the man should be voted into the Baseball Hall of Fame. There is a very good Wikipedia page on Thome, and you'd be surprised how hit and miss Wikipedia's pages about great baseball players can be. One guy who's well known has a terrific page, another guy, equally well known, has hardly anything on his page.
JockBio did a great biography page for Jim Thome
. So There's the link, so long as it stands. Again, Jim is from a good family. A strong family. He's the kind of man Americans should admire. He grew up hitting rocks and whatever he could find to serve as a ball. I did the same thing. There is also the tale of busting a neighbor's window. It's seemingly typical, but you can get a real sense that with Thome, it's true.
Players and persons who've had the opportunity to meet Jim literally gush about what a nice man he is. He is the guy who forever was cheered by a city he'd once played in, but was then playing against. The Wikipedia page talks at length about what a nice man Jim is. Nobody ever considered he may be a steroid user because he was said to forever be the first guy to the weight room. He had to work hard to excel, and he was observed working very very hard, and he wasn't the sort to cheat. People can get a truly huge sense of who a person is by spending time around them.
Like a lot of other sluggers, Jim Thome once was a 3rd baseman. For most, when it becomes clear your true talents are with a bat, you get moved off of 3rd base, and over to 1st base. Albert Pujols experienced this, as did Miguel Cabrera. Thome was an average infielder at first base until later in his career when he hurt his back, and was only then moved into the designated hitter role.
Offensively Thome had a much higher batting average against fastballs than breaking balls. He lived for the fastball, and then the bad breaking pitch that hangs out over the plate. Though he more often than not went to the batter's box looking to pull a ball in the air, Thome could hit home runs to any part of any ballpark. The man is a very large man.
Thome had a Hall of Fame baseball worthy career. But he's a Hall of Fame individual, especially if you're related to him, but even if you are not. You read about so many vapid celebrities these days. Especially in the NFL, insofar as sports go. Baseball is a far classier act, and Jim is a class act in baseball. He created funds to send all his nieces and nephews to colleges. He also supports his local communities. When a tornado hit Washington, Illinois, the Thome family was there with lots and lots of cash to help people who'd lost their homes. But that is just one of many examples of the class act Jim Thome has always been. Lets get him voted into the Baseball Hall of Fame. Thanks for reading.
Jim hits his 607th home run. The ball couldn't be found for over a day