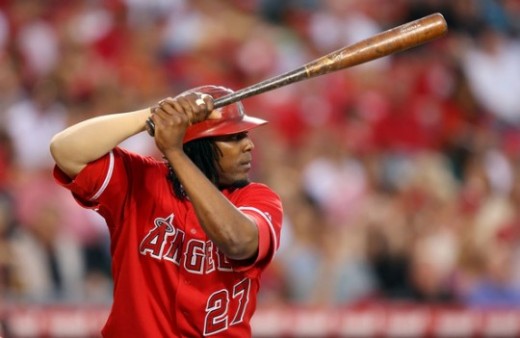 Vladimir Guerrero was a rare and true 5 tool player.
Vladimir Guerrero was truly a five tool player. What is that? Oh, it means he could do everything. He had had blazing running speed for the most of his career. He could hit home runs, but he could also hit for a high batting average. That's three tools listed so far. Then he was great with the glove in the outfield. And even the fastest runners were scared of trying to stretch a single into a double, because Vladimir had a howitzer for a throwing arm. There's the five tools.

Big bad Vlad played a lot of seasons for the Montreal Expos. There really wasn't a big market for baseball there, and this is why the team no longer exists. What I'm saying here is Vlad spent his youth and most of his prime playing where he didn't get anything like the attention and recognition he'd have got had he been playing in California or New York, or Ohio even. The other thing that needs to be said about playing in Montreal is the stadium's playing field was basically a concrete slab with AstroTurf on top of it. Playing on that field robbed Vladimir of his speed. The stadium punished the knees of the men who were always running on it.

Vladimir Guerrero retired after the 2011 season. He'll be on the ballots for voting into the Baseball Hall of Fame in 2017. There are people in the HOF who never played anywhere nearly so well as did Vlad Guerrero. People will be scrutinizing his statistics to no end, but probably the biggest problem for Vlad's case is he forever avoided interviews and endorsements. He loved the ball game, not the limelight game.


Vlad Guerrero won an MVP award, and placed high in MVP voting many times.
The 2004 season was not the most statistically impressive season Vladimir Guerrero played, but it was the season when he won his league Most Valuable Player award. Vladimir would finish 3rd in the league MVP voting in both 2005 and 2007. But altogether he finished in the top 15 in his league's MVP voting 10 times.
So you can see how strong a player he was. Ten years he put up numbers to where baseball writers big shots were voting for him to be the league MVP. And he was playing in Montreal for a lot of those seasons. The Expos weren't exactly big competitors for pennants. Vlad was also a 9 time All Star team member. At one time, he was the all time hits leader of players from the Dominican Republic. But he's been eclipsed in that regard since then by
Adrian Beltre
.
A young Vladimir Guerrero with the Montreal Expos.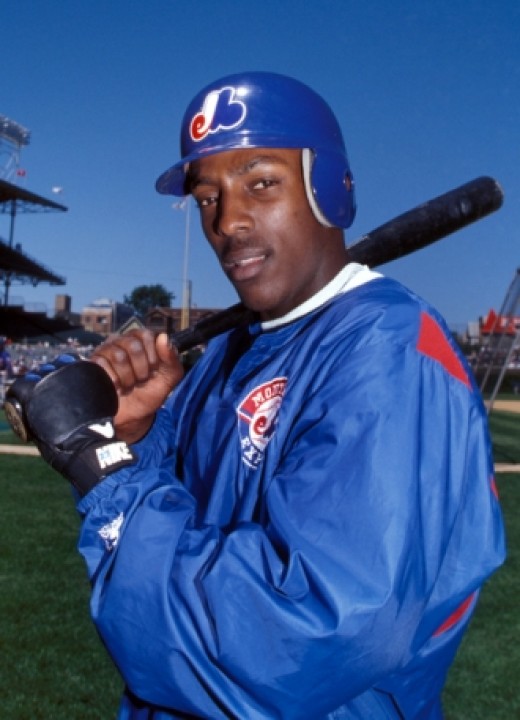 Vladimir Guerrero with the Montreal Expos.
Vladimir is from a baseball family in the Dominican Republic. He is one of 9 children. His older brother Wilton Guerrero was once a MLB player. Vlad has numerous cousins in baseball at various and sundry levels of play. His son, Vladimir Guerrero Jr. is now a prospect for the Toronto Blue Jays organization.
Vladimir never really mastered the use of English. So he didn't really do interviews. As he is now retired and playing softball at home in the Dominican Republic, he is said to have said life is better there. He was forever loved by team-mates who he was forever bringing food to share with before games. His mother's rice and beans. When Albert Pujols was entering into the Major Leagues, Vladimir was very kind and mentoring to him. Albert never forgot it.

The thing everyone remembers about Vladimir the most, outside of his mad baseball skills is his smile. Vladimir did a lot of smiling. His smile is the kind of smile that will make you smile too. A smile contagion.
Anyway, at one point there was a problem. It got cleared up. Youthful indiscretion, is all it was. Vladimir had lied about his age. He wanted to be older, so as to play ball. The incident wasn't cleared up until 2009 when it didn't matter any more. Guerrero raced through the Expos far system. He'd debut in the Major Leagues in 1996 in September. It wasn't too eventful then.

In 1997 Vlad would see about a half season's worth of playing time. He caught some flak for being so aggressive at the plate, but he put up some good numbers for a kid so young. You take his numbers from 1997, project them over a full season, and you see an All Star caliber player.
Vladimir seems to have struggled in the outfield. Many times he led the league in errors for outfielders. But when he was young he could get to more balls than a more typical outfielder. So take such things into account.

Insofar as offense goes, Guerrero owns most Expos offensive records. He may own them for all time. There may never be another team in Montreal. He won the Expos Player of the Year award 4 times.
In 1999 Vlad had 42 home runs and 131 runs batted in. The RBI total that year would be a career best. But the next season, 2000, he hit 44 home runs, and batted for a .345 batting average. Both of those totals would be career bests. The 2002 season, though, may have been his best year in Montreal. He had 39 home runs to go along with 40 stolen bases. So he just narrowly missed becoming the legendary and very rare 40/40 man. That season he'd also lead the National League in hits, and total bases.
Vladimir Guerrero takes a big rip with the California Angels.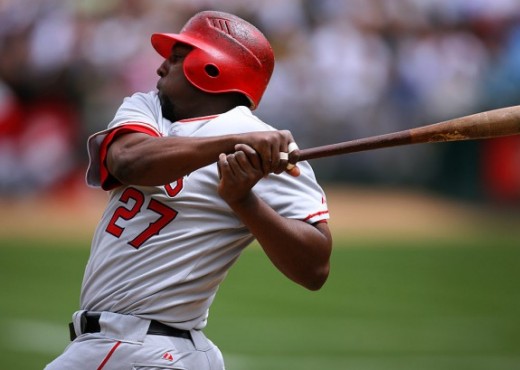 Vladimir and the Angels of California.
After the 2003 season, Vlad Guerrero came up for free agency. It was money time. He signed with Art Moreno's Angels because Moreno was also a Hispanic. Vlad got paid $70 million for 5 years. This would be considered a rip off of Vlad Guerrero today.

In any event, Guerrero continued to play at the level he had in Montreal. But his knees weren't in such good shape. He didn't have that base stealing speed so much any more. He had everything else though, and that was quite enough to put together some very impressive seasons in the batter's box and in the field. Vlad's throwing arm was always a thing of much renown, and it stayed so. He'd lead the American League in outfield assists, gunning down runners who thought they could make it to second base, or third base, or home.

2004 was Vlad's Most Valuable Player award winning season. He proved his worth down the stretch. When it mattered most, Vlad came through for the Angels that season. The team overcame a 3 game deficit to win the American League West. Vladimir Guerrero certainly led the offensive charge. Though the Angels wouldn't get far in the post-season, it was clear to all they'd never have got there at all were it not for Guerrero, and thus the MVP award.

Vlad would play just as well in 2005 with one caveat, he'd spend some time resting his aches and pains, and so he'd not play every game, or as much as he had the previous season. The Angels again were winners, He'd star in what would be a pretty famous commercial for post-season sales of beverages. Vlad and Alex Rodriguez would have a home run contest, and the results were the very moon was shattered by their long ball prowess-es. Pepsi got some good press out of that one, and so did the great Vladimir Guerrero.
Both the 2006 and 2007 seasons were typical for Vlad. He hit around 30 home runs, batted over .300, and drove in over 100 runs. In 2008 he also had a fine season, but maybe folks felt there was a drop off in production. He looked to be becoming a 25 plus home runs per season guy. His batting average was still over .300, but was lower, and in 08' he failed to drive in 100 runs.

In 2009 Vlad played hurt when he played at all. His knees were shot. You can't very well stand in the batter's box and swing the way you always did when your bloody knees are throbbing, now can you? Vlad didn't get an entire season, but he was productive for when he did get to play. His time in California was done though, he signed with the Texas Rangers.
Vladimir Guerrero takes a mighty swing with the Texas Rangers in 2010.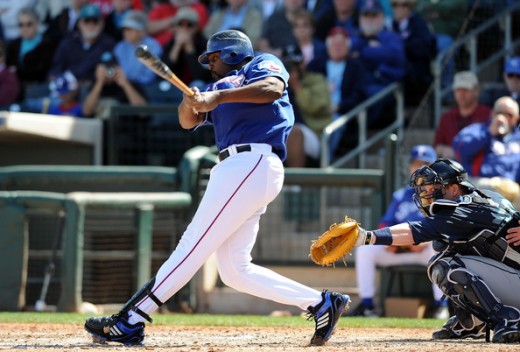 Vladimir Guerrero comes to Texas.
As a long time and long-suffering Texas Rangers fan, I can assure you I was elated to hear we'd signed the great Vladimir Guerrero to be a part of the Rangers team. The man had vexed us with arch-rival Angels, he hit against Texas as though we'd done him wrong somewhere in his life. Or maybe it was that he just liked hitting in our beautiful ballpark?

Vladimir had a fine season for us, and was the Vladimir of old. The guy who could hit like Albert Pujols. But Vlad's time as an outfielder was clearly done. He could not run much any more. And when he got on base late in ball games, Rangers manager Ron Washington would pull Vlad for a pinch runner. I had always heard about how Vlad Guerrero could swing at and hit pitches nowhere near the actual strike zone, and I thoroughly enjoyed seeing just that with my own two eyes. He made the All Star team for the 9th time that year, and the production crew put together a terrific video of Vladimir's exploits hitting bad pitches out of the strike zone for base hits.

He had a terrific year for us, and 2010 was one of the finest years in the history of Texas baseball. The Rangers won the American League and faced off against the Giants in the World Series, where we lost. For reasons I do not comprehend, the Texas Rangers didn't pick up the contract option on Guerrero for the 2011 season, and Vladimir signed with the Baltimore Orioles.
Big bad Vlad with the Baltimore Orioles in 2011.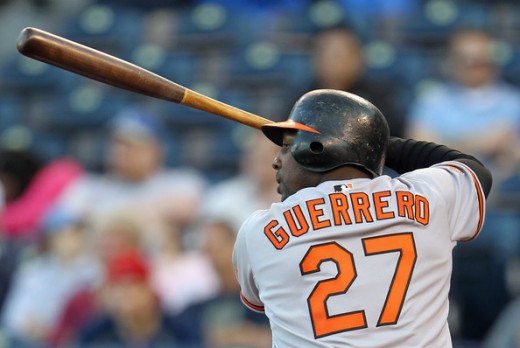 Vlad plays one season in Baltimore then retires.
In any event, Vlad made more money with the Orioles than the Rangers would have been paying him. For anyone other than Vladimir Guerrero, his production for the Orioles was superb. He didn't get an entire season's worth of playing time, but when he played, he produced. He hit for a .290 average, had 13 home runs, and batted in 63 runs. But for Vladimir, it seemed he was in a real decline as a player.

He said he wouldn't retire. Signed a minor league contract with the Blue Jays, and then retired after not making the Big League team. Sometimes men just mature early in life, and then start aging at an earlier age than others. This seems to have been the case with Vladimir Guerrero. He burned as hot as a candle can burn for the years he did play, but he didn't play that many years in total.

For his career, which was just 16 years, he has great offensive totals. A career .318 batting average. A career slugging percentage of .553. A career on base percentage of .379. So you can see his career OPS is a high .931. He hit 449 home runs, and drove in 1496 RBI. Never will anyone think Guerrero had cheated with performance enhancing drugs. Vlad is that rare man like Jim Thome, who no one ever suspects for his obvious fine character. He was the finest example of a 5 tool player since Barry Bonds, and no one can compare to Vlad in his prime today other than Mike Trout, or maybe Bryce Harper and Paul Goldschmidt.

Vladimir Guerrero Jr.
Now, prudence demands we not get carried away here. But legacy players are a often occurring thing in Major League Baseball. Vlad Jr. has the look and the skills of his father. He is only 16 years old. The news reports are he's got a word of mouth agreement to sign with the Toronto Blue Jays minor league system when he finishes school.

There is a lot of money involved in this. Four million dollars, actually. The young man could prove worth it, and his father had to play many years to get that kind of money. So while we have no right to place expectations upon this young man, we can hope he does love baseball as did and does his father, and we can wish him the best, regardless. Thanks for reading.
Vladimir Guerrero Jr.