First off, I always believed in Joey Gallo. I always wanted to see him become a star, and always believed that he would. Not everyone has been so charitable.
In his 2015 taste of the MLB he showed everyone what his game was. Everyone knew what he was billed as, and he delivered on the billing. Everyone knew the 2015 taste was just a taste.
2016 came and Joey got another shot to show the future. He hit one gigantic home run, and then he struck out nearly every single time he got to bat afterwards. He looked lost. He looked terrible. He looked like someone one should trade for whatever you could get in return.
No one ever doubted he could hit balls 500 feet. He can and he does. People love to see that shit, it brings in fans. People stop what they are doing to watch Gallo bat. It is going to be just that way.
Well, he looked so bad in 2016 I also thought if we could trade Gallo and Profar for Chris Sale, well? Sounds like the best thing to do. Sale is kicking ass in 2017, as expected, by the way.
Gallo? Beltre got hurt, and he has damned well stayed hurt in 2017. Today is the day after Mother's day, and Beltre's 2017 debut is...where? Who knows? Anyway, everyone in Texas years for Beltre to get back in our lineup. But since he has been gone, the real Joey Gallo has been here.
Gallo has proven himself. Only that humongous Aaron Judge person, an even larger fella than Joey, has more home runs. Gallo isn't going anywhere. He's staying. I swear it.
So Beltre will come back at some point. He'll be the team captain, he'll hit, he will be the best 3rd baseman we've ever had. That's just what Adrian Beltre does. It is who he is. Adrian Beltre is a future Hall of Fame player.
Right now Gallo is doing a very passable job at 3rd base. Where will he be when Beltre comes back? He may get time at 1st base. Mike Napoli simply must raise his batting average. Gallo may get time in left field. We shall see.
Joey Gallo's home run swing in his Major League debut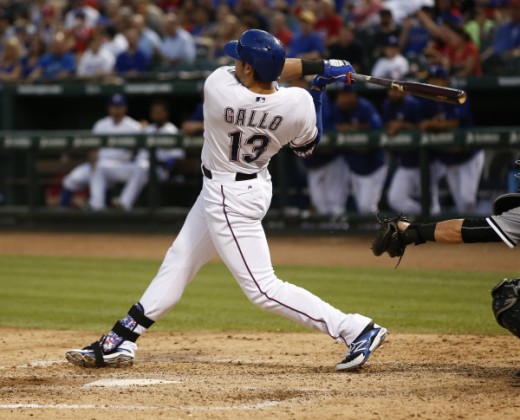 Who is Joey Gallo? He's the biggest power hitting prospect in Major League Baseball
Joey Gallo is a super prospect. He's practically a legend, and his time is yet to get here. Think of an airport, and big jets taking off and flying high high high in the sky, and then out of sight. This is the way to think of Joey Gallo and his possibilities in baseball.
Joey Gallo is a home run guy. He hits the ball very far, very often. He also swings and misses a lot. This is just the way things go with big power guys like Gallo. Lots of empty swings, and lots of long long home runs.
When we say Joey Gallo is the
biggest
power hitting prospect in Major League Baseball, we aren't talking about how large of a human specimen he is. He is a large man though, and we also are not saying he is
in
Major League Baseball. He did get to play some for our Texas Rangers in 2015, but he may or may not start the 2016 season with the big club. If he does not, then he will almost certainly be playing for the Texas Rangers in Triple A ball.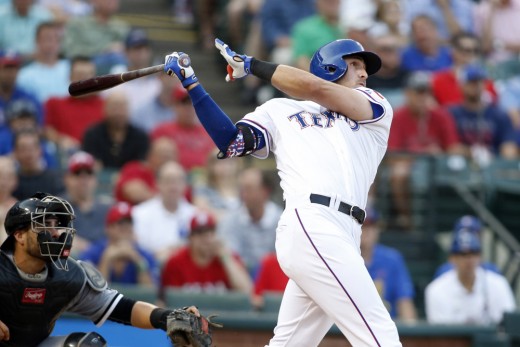 Where will Joey Gallo be in 2016?
Joseph Nicholas Gallo is just 22 years of age at this writing. He stands six feet and five inches tall, but looms larger in the plans and dreams of Major League Baseball, and all its fans. He weighs two hundred and thirty steroid free pounds, and the weight on his shoulders is his alone to carry. He carries the weight into the on deck circle as he loosens up to face a pitcher, and he carries the weight, plus the weight of a large wooden bat, into the batter's box, where he already knows every eye is going to be on him.
Joey Gallo is from Las Vegas, but he's all Hollywood on the big show. Everyone talks and talks about Gallo and his baseball bat. Don't overlook Joey on the field though. No, he's not going to replace the future MLB Hall of Fame
Adrian Beltre
at 3rd base too soon, but Joey has too good a throwing arm, and too good a glove to just be a first baseman or a designated hitter. No true baseball fan could ever root for an injury to Adrian Beltre, but should he get injured, as he did last season, then we'll likely get to see some more of Joey Gallo in 2016.
We'll probably get to see him some regardless, you know how it goes, rosters are expanded at times. You get to see some of the team's future during roster expansion. Everyone wants to see Gallo and his big swinging future, but nobody much wants to wait for it. Gallo has an easy smile, and it is as big as his frame or his swing. He doesn't look too stressed out about anything, but who can say how he feels after he swings and misses at strike three? The problem isn't going away, and nobody thinks that. Home runs are his business, and home run hitters often swing and miss.
Gallo is also getting some time in at left field. Of course big injury plagued Josh Hamilton did own the position, but that is supposedly a thing of the past too now. The Rangers signed Ian Desmond to fill the hole, and what do you know? Desmond is another bigtime strikeout swinging for the fences type. So we've also got the notion here in town that should Desmond and Hamilton be down with injuries, then we could see Joey Gallo in left field sometime.
Major League Baseball's #8 prospect, Joey Gallo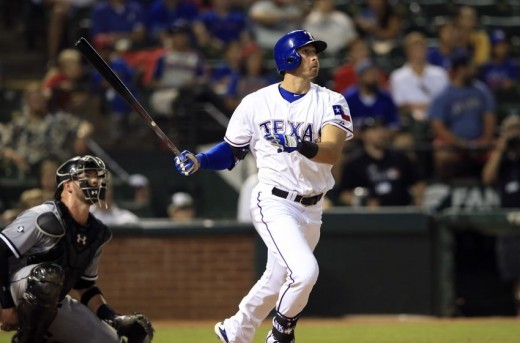 Joey Gallo and Chris Davis
As big a prospect as Joey Gallo is, he's still in the layaway plan. In fact there is something called simply,
the Joey Gallo Plan
. That's what we're dealing with here, a guy with so much upside they name
plans
after him. The whole deal is they don't want to rush the guy to the Major Leagues, have him struggle, and suffer with the psychology for it all.
The idea is to let him mature at Triple A ball. Thing is, he's thumping balls over fences and striking out there at the same clip he was at the big show. What to do?
Last year Gallo had 108 Major League at bats and that in 123 plate appearances. He hit six home runs. So on an average of 500 official at bats, he hits 30 home runs, everyone should be happy, right? Especially if he hits the same .204. The problems come in with the projections when you figure at the rate we've seen, with around 500 MLB at bats, Gallo shatters all existing records for strikeouts by a hitter in a season with over 250 of them.
The big deal is we've seen all of this, exactly this before in Texas. He had a name then, and he's got the same now, and we're not talking about Joseph Gallo, we're talking about Chris Davis. It was a damned painful thing to see at the time, but in the end, Chris Davis is one of the top power hitters in Major League Baseball. He led the American League in home runs and strikeouts last year.
The point of everything is that when Gallo makes contact, exciting things happen. Gallo has to make contact more often to get the chance to play full time in the Major Leagues. They've invested 2.25 million dollars in the man as a signing bonus, and everyone is on the edges of their seats. His power is rated at
80 grade
, and 80 is the highest grade MLB gives a player for any particular skill.
Joey Gallo rounds the bases after hitting a home run in his second Major League at bat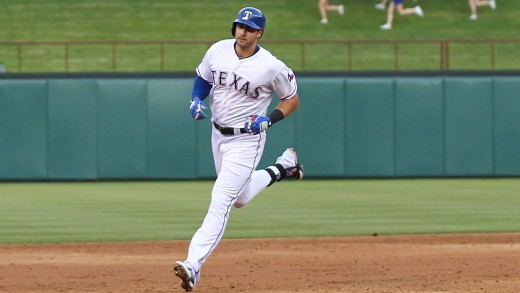 Joey Gallo and the Three True Outcomes
Somehow, or really, it isn't so surprising considering all the new technology available in this world, baseball has become even more of a statistic freak's sport than it already was. Among the new terms and terminologies you will hear these days, especially if you are so dull you listen to sports talk radio shows, is the notion of three true outcomes.
What the hell is going on here? What is this all about? It is like this: walk, strikeout, or home run. There, that is all there is to it, those are the
three true outcomes
for a hitter. So you can see how Joey Gallo figures into this, he's a three true outcomes slugger. He's hardly the only one there has been, or will be.Mark McGwire comes to mind here, so do more recently retired men such as Jim Thome, and Adam Dunn. So long as the slugger in question is getting enough walks, which are thought to be a byproduct of the big home run swingers, and the fear they implant in the minds of pitchers, then their on base percentage should be enough to warrant their presence in the lineup, and this despite all the strikeouts.
Our current projections based on Gallo's MLB history figure him for about 70 walks in a season should he get 500 official at bats, and this places his on base percentage, with a .200 batting average, at about .300. Following the projections this gives Gallo around 70 runs scored. Would it be worth it? We'll wait and see, and for Gallo, he also has some heat on his back in the Rangers prospect arena, with Lewis Brinson and Nomar Mazara.