Don Mattingly as manager for the Los Angeles Dodgers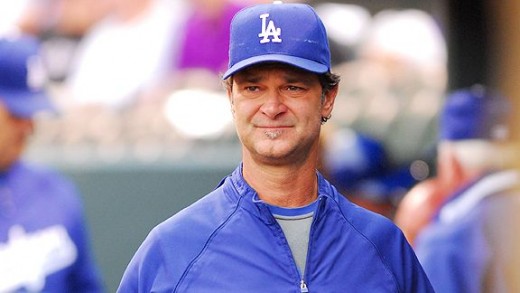 'Donnie Baseball,' or Don Mattingly, has been a star player, coach, and manager
One of the problems in Major League Baseball which needs addressing is the distinctions between who is or who isn't a Hall of Fame worthy person. The MLB as an entity or possibly it is the Hall of Fame as an institution; they seem to want to create a big distinction as to whether a person was a player, a media person, or a coach or manager.
But many a baseball media person was once a player. Some of them were once players, and then moved to coaching staff.There are people who were players, then team staff, and then went on to baseball media.
So a person should be eligible for the baseball Hall of Fame even were their playing careers not deemed worthy. Because in total, the playing career, the post playing career in management or media; these things add up.
You associate Don Mattingly with Major League Baseball. Probably lots of persons who are even in the Major Leagues today never knew Don Mattingly as a professional baseball player, they've only known him as a coach or a manager.
I knew Donnie Baseball Mattingly as a player. No, I never met Don Mattingly. I was a baseball super-fan, and still am. I saw Don play baseball live several times. I saw him on television dozens of times.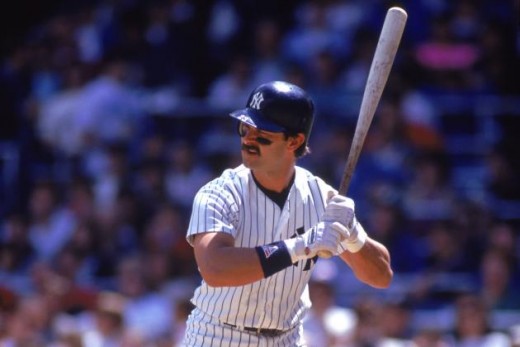 Don Mattingly was an elite athlete
The problem, if you choose to think of it that way, is Don's career statistics as a baseball player don't measure up to the kind of numbers we're used to seeing these days for Hall of Fame inductees. His stats aren't sexy enough. Maybe Don should have used steroids. Everyone else was doing it.
But Don Mattingly was an elite Major League player for some years. His elite years just happened to go into decline before Don Mattingly ever entered into his years where he'd normally have been in his athletic prime. He hurt his back. Or rather, his back just hurt. Turned out he was born with a degenerative back problem. So there was no healing the back.
He lost his ability to swing as fluidly and as quickly. He lost his power for it. Don wasn't a big guy, he was a guy with outstanding hand to eye coordination, and a very fluid swing. Don was listed at six feet even, and just 175 pounds. So you can see how a back injury would rob him of power numbers.
More than just a great hitter
Don Mattingly wasn't just a great hitter. He was an above and beyond the fold fielder. He also had no problems playing various and sundry fielding positions. His flexibility and willingness to do whatever his team needed him to do was surely something to be admired from his fellows.
This is another of the major problems with baseball's statistical obsession. Hitting stats or offensive stats are forever valued more than fielding statistics. But fielding wins games or loses games in the same ways offense does.
But the 1980s was a time known for being full of persons with bad hair. I'm not saying dapper Don Mattingly had bad hair, but I am saying he had issues with his hair. Or maybe he didn't have issues with his hair, but his team's management surely did. Now I liked Don Hitman's hair. I also liked Twisted Sister, so you can't say I have a lot of class when it comes to judging men's hair.
Don Mattingly as a senior in high school, 1979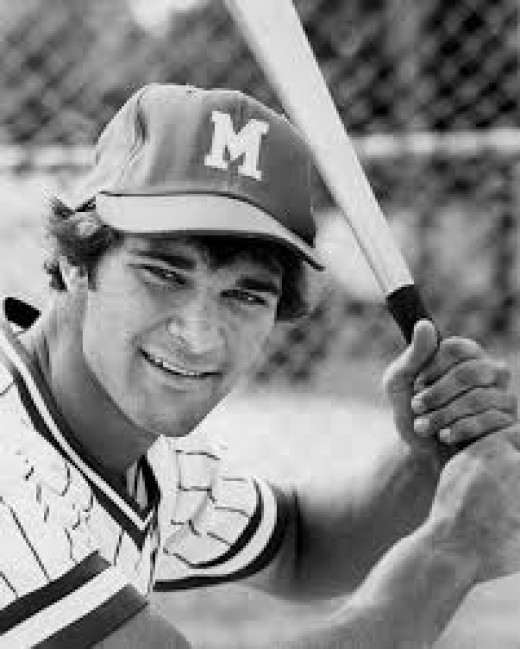 Donnie Baseball had a lot of success as a young baseball player
Donald Arthur Mattingly is as American as apple pie. He's from Indiana. He was becoming a baseball star around the time John Cougar Mellencamp dominated FM radio with his Midwestern heartland rock and roll.
Don became known as
The Hitman
, and also
Donnie Baseball
. Not everyone who becomes well known in baseball gets a nickname that sticks. Don got two. I think this is a testament to how well liked he always was, and still is.
Don got to debut and play some in 1982, but that was just a bit of a taste. They do it like that. Bring a kid up and let him get a taste for motivation, and also for the team to make some evaluations. They send him back down, and let him work hard so he can come back. Don cam back in 1983, and this was his official rookie season.
Donnie baseball is famously ambidextrous, probably could have been a switch hitter. He could certainly throw well with both arms. He was a pitcher in school. Was a part of a championship little league team. He also played some second base.
Things got serious in high school. Don was part of a team that won 59 straight baseball games. Can you imagine having such an expectation of winning at anything? Well, Don was damned good. The rest of the team was too. They won a state championship, then the next year finished as runner up. So there were eyes on Don from the time he was in high school. Even though Don was small.
Don Mattingly holds a lot of state records for high school baseball still. He accepted a scholarship to go to a university and play baseball. The Yankees came calling, and Don answered them instead. He got a fat bonus for those days, $23K.
Big expectations on both ends for Don Mattingly and the New York Yankees
You don't fault a kid for having high expectations for himself. But Don set his bar very very high. Unrealistically high, actually - he expected to have a .500 batting average in the Yankees class A farm system. He disappointed only himself by batting .349. I hope he didn't take that too hard. In any event, it didn't matter much, as he hit for a higher average in 1980 than he had in the short 1979 A ball action.
Despite Don's prolific batting averages, scouts were concerned about his lack of power hitting, and his lack of running speed. I bet don was modeling himself after persons like Rod Carew, and George Brett more than Lou Gehrig. Probably the Yankees have unrealistic expectations for people, but then again they're the 3rd biggest money sports franchise on planet Earth.
First base is a position where throwing left handed is optimal. First base is also a position usually reserved for big dudes with lots of power. The Yankees thought maybe Don would be a better fit at second base, he could throw right handed too.
Don Mattingly breaks out big in 1984 and 1985
Donnie Baseball's 1982 showcase with the Yankees didn't amount to much. He got to deal with his flutters. In 1983 he played first base and the outfield on a part time basis. He hit a respectable .283 that year. It was 1984 when Don became the hit-man.
Don was helped out in his 1984 campaign by a thing that drives the great athletes - competition. He competed with the great Dave Winfield for most of the season for the American League batting title. The highest average in the American League. Don won the contest on the very last day of the season. Don hit-man Mattingly's .343 average wasn't the only thing he would lead the American League with. He also led in hits and doubles. The old worries about his power were gone, as Don made some adjustments to his swing to create more lift. He hit 23 home runs in 1984, and with all the doubles he wound up second in the league in slugging percentage.
As fine a year as Donnie Baseball had in 84', he'd have a better year in 85'. He'd wind up winning the American League MVP award. He was just 24 years old. The hitman increased his power numbers at the expense of some batting average. He led the AL in runs batted in with 145. The total was the most by a lefty batter since Ted Williams had had 159 in 1949. He also led the league in runs batted in by a total of 21. Nobody had had such a big lead over the next guy since 1953. Don hit 35 home runs too. He placed 1st in doubles, and second or third in a number of other offensive categories. He always was a clutch hitter too. His batting average increased a good deal when there were two outs and runners in scoring position.
Don was also recognized for his superior fielding ability. He got his first of 9 total gold glove awards that year. He played second base and third base sometimes too. He played the positions left handed. This is very rare in Major League Baseball - someone playing second or third base as a left handed thrower.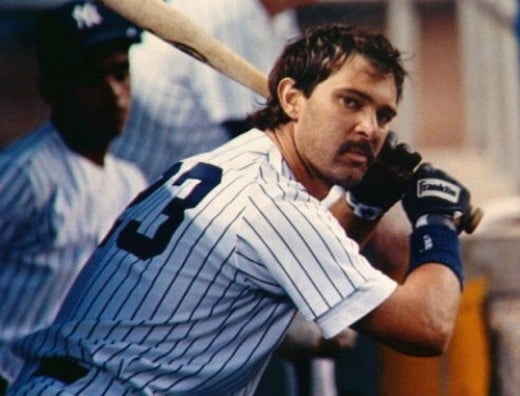 Was Donnie Baseball robbed of the AL MVP in 1986?
As good as Don the hitman had been in 1985, he was maybe even better in 1986. Many feel Don should have won the MVP in 1986 too, and that he was unfairly snubbed. the award went instead to
Roger Clemens
. Clemens also won the Cy Young. Wasn't the Cy Young the MVP for pitchers? Many think it unfair and just plain wrong to award a pitcher a season MVP award.
Mattingly had a monster year in 1986. This was not yet the steroid era. Nobody ever accused Don of messing about with performance enhancing drugs anyway. He played in every Yankee game, all 162 of them, led the AL in plate appearances, hits, doubles, slugging percentage, OPS (on base percentage plus slugging percentage) OPS+, and total bases. Setting offensive records on the New York Yankees team is hard to do. Don set new records in 1986 for hits in a season, and doubles in a season.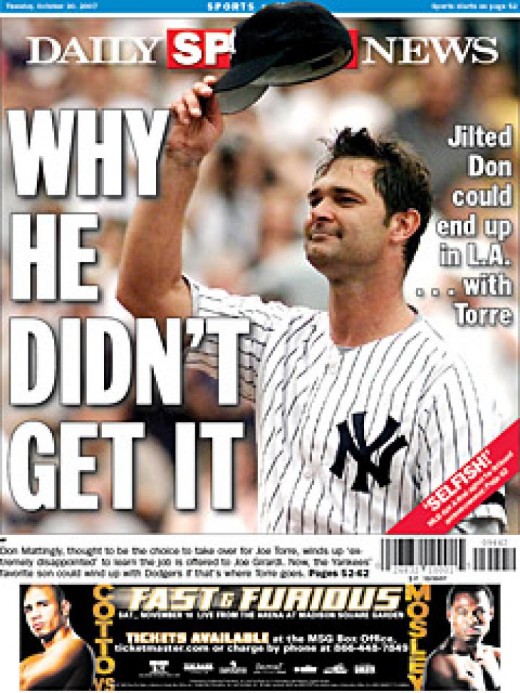 1987, Don's back injury and decline
Again in 1987 Don Mattingly had a fine year. Here's the only portion of the tale where I fit in. I was at one of the games in which Don hit home runs in 8 straight games. It was a game at the old Arlington Stadium, which was torn down later to build The Ballpark in Arlington. The Ballpark is now called Globe Life Park. So I got to witness one of Don's home runs in the 8 game home run streak. I think it was the 8th game. So I believe I was there when he set the MLB record for consecutive games with a home run. I was 13 years old though. So my memory could be fuzzed over a tad. Anyway, Ken Griffey Jr. later tied that record.
In 1987 Don also set a record by hitting six grand slams in the season. During the season it was reported that Don had hurt his back while playing around in the clubhouse. Don denies the story, but almost certainly late in 1987 his back had started bothering him. He likely was trying to think of how and when he could have hurt himself. In retrospect it is known he didn't injure himself, he had a congenital back problem. Don had another fine year in 1987, but his numbers were lesser than before. The offensive decline would increase in the coming years.
With the glove in hand Don was a force to be reckoned with on the playing field. His defensive ability never declined with his back condition. Don Mattingly's career with the Yankees was the time span where the Yankees never made it to a World Series. It is a bizarre bit of fact. Don excelled the one post season he got to participate in, but he's the one Yankee great you think of who never saw a World Series game.
Don never became a bad hitter. He continued to hit for a good average, but with his injured back he could no longer create enough torque in his swing to knock balls deep into the gaps or over the fences often. He mostly became a slap hitter. Kinda like Wade Boggs but with less of a batting average. The fact he never performed in a World Series with the Yankees may have hurt his chances for induction into the Hall of Fame in Cooperstown the most.
But Donnie Baseball only retired from playing. He retired after the 1995 season, and was replaced by the very capable Tino Martinez.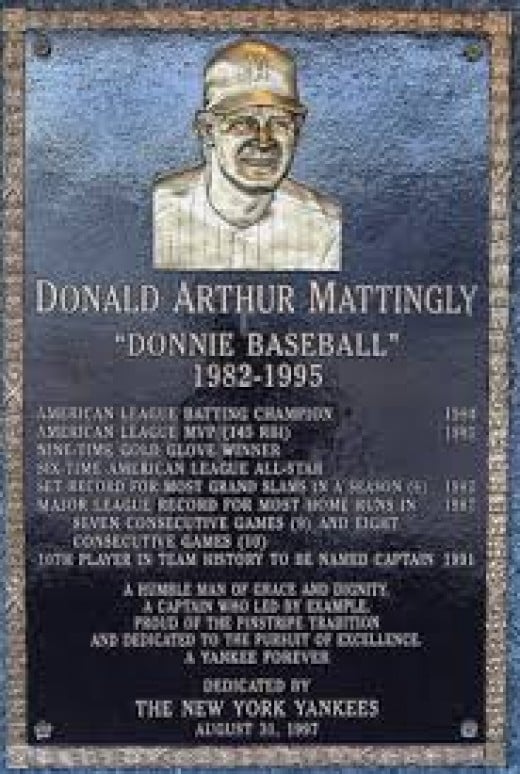 They didn't call him Donnie Baseball for lack of love for the game. Baseball was Don's life. The Yankees were the life he'd almost always had as an adult. He probably never considered playing for another team. He wasn't forced into retirement. What was probably more painful for him than his back was his declined performance, and the knowledge that he had been so much better. He'd been a league MVP. Should have been MVP twice.
So Don went on with the Yankees. As a batting instructor. There's not many men who have become batting instructors who had ever batted so well as Don once had. Before becoming the official batting instructor or batting coach for the Yankees he was special instructor during spring training. Don so loved the game that he's give it his life, really. He did spring training as the special instructor for seven years, then he became the hitting coach on the Big League team. The Yankees set their all time high season record for home runs under Don Mattingly as hitting coach. This was the
steroid era
.
So after three seasons of high praise for batting coach, Don moved to the more prestigious bench coach position. You have to wait for a shot at any position on the New York Yankees. Even had you once been a Yankee MVP. But when the coveted manager position became available, the Yankees passed over Don Mattingly.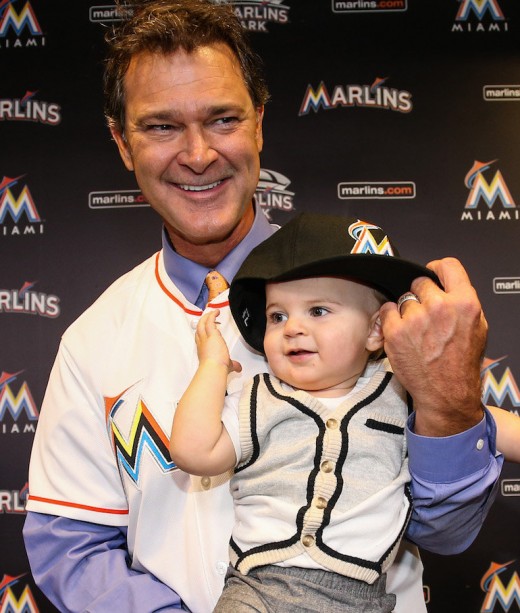 Donnie Baseball with the Los Angeles Dodgers.
No doubt it hurt Don to not get offered a manager's position in the Yankees organization. Don doesn't quit though, and he really freaking loves baseball. He followed Joe Torre to Los Angeles. He became their hitting instructor. Then he shifted to another job in the Dodgers organization.
Joe Torre retired. Don became the Dodgers' manager. He got to coach some of the best players in the game.
Clayton Kershaw
comes to mind here, and so does Zack Greinke. Kershaw gave Don glowing praise. Clayton is the golden boy of baseball right here and right now.
From March 2011 to the end of the 2015 season Don would manage the Los Angeles Dodgers. Mr. Baseball had a lot of success with the Dodgers, they did very well under him, but they never went to a World Series. Don and the Dodgers parted ways after the 2015 season, but Donnie Baseball loves him some baseball. So now in 2016 Don Mattingly will be coaching the Miami Marlins and the great
Giancarlo Stanton
.
So Don Mattingly didn't get to have a Hall of Fame career as a player. He never got to play in a World Series. He may yet get to manage a team into one. The man has dedicated his soul to baseball. Hopefully someday and in some way he'll be enshrined in Cooperstown, New York. Never bet against
the hitman
. Thanks for reading.