Shiner Bock Beer
Yesterday as I perused through the Dallas Morning News there was a curious little article concerning the Czech Republic and it's citizen's consumption of beer. I was rather amazed to learn that the citizens of the Czech Republic drink more beer than the Germans do. Here in Texas, where there are so many persons descended from either Germany or the former Czechoslovakia - and of course, our large Hispanic population, we Texans drink a LOT of beer as well.
Texas, of course, has many beers all of it's own, but no other beer represents the Lone Star State as well as does the world famous Shiner Bock Beer. The Shiner Beer Company based out of Shiner, Texas makes more than just it's flagship Shiner Bock, but generally one becomes first introduced to the Shiner Beer Company via Shiner Bock Beer - and from there, well, there's generally no looking back!
The Spoetzl Brewery - Shiner, Texas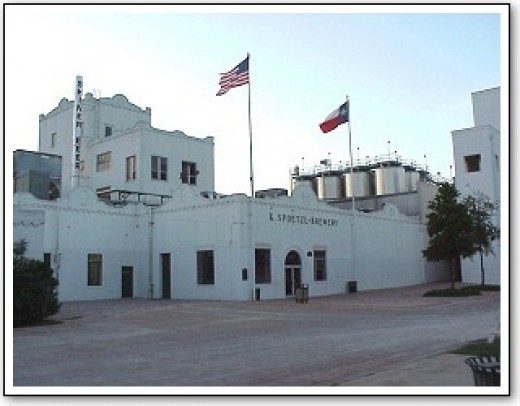 Darth Shiner!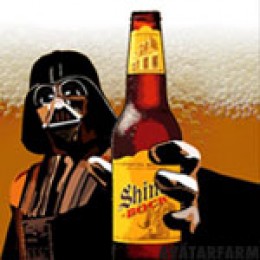 Shiner Beers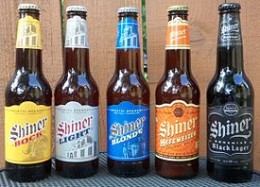 Shiner Blonde and a Blond!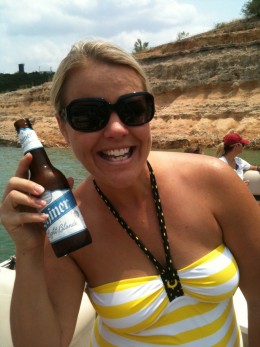 Shiner Beer
Supposedly Bock beers were brewed originally in Germany for the purpose of celebrating Spring. I see no reason to tie celebrations or drinking Shiner Bock to Spring though, we here in Texas drink it year round. Shiner Bock Beer is one of the very few true bock beers made in America.
The History of Shiner Beer, The Spoetzl Brewery, Kosmas (or Kosmos) Spoetzl, and the relationship that Shiner Beers have with the town of Shiner, Texas - is all very interesting stuff! For instance - before
Shiner Light Beer
was put on the market - it was put to a
YES
or
NO
vote to the entire town of Shiner. Do many other American businesses ever CARE AT ALL what the town people around their business think? Shiner Beer does!!! It represents Shiner, Texas - and it does so with PRIDE.
Right this minute, very literally, I'm drinking a Shiner Bohemian Black Lager. I'd never had those before today - so far as I recall - so I bought a six pack. It's very good. I'm thin, I do not worry about calories. Let me read you, um. . . type for you what it says on the back of the bottle:
Here in Shiner, Texas (population 2, 070) we've been handcrafting beer since 1909. The passion of our original brewmaster, Kosmos Spoetzl, continues to inspire our efforts today. First brewed to commemorate our ninety seventh anniversary, this Bohemian Black Lager remains true to the old world heritage of the German and Czech immigrants who settled Shiner, Texas. Imported Czech Saaz and Styrian hops, and selected roasted malts make this "Schwarzbier" our darkest brew yet. PROSIT!
Shiner Blonde is another very good Shiner, Texas beer from the Shiner Beer Company, and I've enjoyed it many times. All of these beers from Shiner are pretty thick, they aren't the ordinary and plain pilsner style or ale beers that are everywhere - these are Texas beers, and they represent our state well. I've never drank the Shiner Light at all. I'm not a light beer kind of guy.
But my favorite Shiner Beer is a seasonal beer called
Shiner Smokehaus
, and no other beer at all represents Texas, in my opinion, so well as does
Shiner Smokehaus
. You see, the Shiner Smokehaus beer features Mesquite smoked malt. If you've never been to Texas, then maybe you don't know - but the Mesquite tree is ubiquitous here. The Pecan tree (of which there are many varieties) may be the State Tree, but the Mesquite Tree is the tree that is truly everywhere you look. We Texans tend to smoke lots of things with Mesquite trees, and usually those things are meats. We Texans, however, aren't the least bit shy about enjoying Mesquite flavorings in sauces, and of course, Shiner beers.
Now, The Spoetzl Brewery in Shiner,Texas has been open for business since 1909 - and we all basically hope that it's open for a long time to come, and never closes. If you've never been to Texas and never enjoyed a Shiner Beer of any kind, then I encourage one and all to give it a go. My thoughts are that all Shiner Beers go good with any sort of bread and meat meal, and especially with barbecue, but if you are not a meat eater - then there's no reason why you too can not enjoy a Shiner, and a little taste of Texas wherever you are.
Shiner Bock Beer - It's Loved All Across The Universe!