Very tragically, Yordano died this morning in a car crash. He wasn't even the only Major League Baseball player to die in a car crash this morning.
Yordano died very young. He did, however, get to pitch on two World Series teams, something that many of the greatest MLB players never got to do.
He never got to reach his full potential, but all indications were he'd have had a long career had he maintained his health. Although Yordano was rather small for a starting pitcher in the Major Leagues, he had had one of the highest average velocity fastballs of anyone in either league over the past few years.
He had the kind of arm that can't be acquired through workouts, and can't be taught either. The rare gift of having the ability to hit triple digits on a radar gun.
I'll miss the excitement of getting to see him throw it as hard as he could against the best hitters in the world.
The late fire balling pitcher Yordano Ventura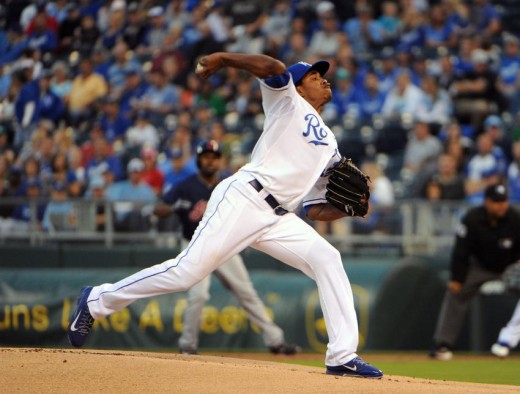 Yordano Ventura - the starter with the fastest fastball in the American League
Yordano Ventura is a very young man, he's only 24 years old, and he's already got a lot of baseball experience that few men his age ever have. Though he is small compared to many Major League pitchers, he's thought to have one of the single best throwing arms in the Major Leagues.
In Major League Baseball today, every single last iota of everything is documented, analyzed, and given some sort of statistical value. Usually, several sorts of statistical values are given. If the game keeps going on with the pace it has been, with new statistics and statistical evaluations, you'll have to be a mathematician to enjoy the game, or at least to understand whatever in the world it is the person on the television is saying about who and what, this and that.
We know, for instance, that since statistics and every last pitch fell under the purview of radar guns and calculations that the average fastball in Major League Baseball is increasing in velocity. When the age of the sluggers died with the end of steroid use being accepted, the age of pitching arrived. Things progress in such manners, one thing gets big, too big, then busts, then another thing moves in to replace it. Nature abhors a vacuum, and somehow or another this certainly applies to baseball, being all natural, you know.
We know things about Yordano Ventura. We know he's got one of the most impressive throwing arms in all of baseball. Yordano is a starting pitcher at present, and probably will remain so, and in 2014 he out did ever single other starting pitcher in MLB with the average velocity of his fastball. His average velocity for the fastball was 96.9 miles per hour, and this is very very fast. The second best starter, insofar as average fastball velocity in that year was Garrett Richards, and he trailed Yordano's velocity by a hair or two, Garrett's average with the heater was 'just' 96.3 miles per hour.
Suffice it to say, and it is only logical to conclude, that when your average fastball is 96.9 miles per hour, then your top end is over
100 miles per hour with the fastball.
Should you be so wise to have guessed that Yordano is a triple digit man, at times, then pat yourself on your back, you're thinking is sound enough for baseball thinking.
Yordano Ventura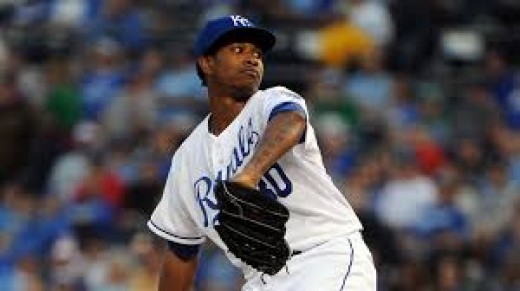 Scouts worry Yordano Ventura is too small to pitch 200 innings. I say let him go for it, and have as many innings as he can handle
Over the past five seasons, however, our Garrett Richards reigns supreme with the fastest fastball average in the American League. Yordano is at a disadvantage for having not played in the past five seasons. The five seasons stat also considers number of innings pitched, and one must have started and pitched as a starter in at least 300 innings to qualify.

Merely throwing gas is a neat trick and all, few can do it, and if everyone could it wouldn't be special at all. Throwing blazing fastballs isn't enough though, there has to be some control over the pitch, you have to throw strikes with it, and even then it isn't enough to keep you on top of Big League hitters. Yordano is small though, a small man for having such a rocket right arm. He stands just six feet tall. He doesn't even weigh 200 pounds. He's listed at 180 pounds, but the six feet tall thing, knowing how inaccurate the sizes of players often is in the MLB, he may be shorter than that.

So the concern for Yordano Ventura is not his stuff, his stuff can be overpowering. He throws a four seem fastball up to one hundred miles per hour. He throws a mid 90s sinking fastball, and a power curve, and change up. All his pitches move. The big concern for Yordano is his body size is too small for him to keep up what he does over the course of a 200 innings, and hopefully more season. That said, they Mets limited the innings of Noah Syndergaard last year, and he's built for 300 innings, if anyone in the game is.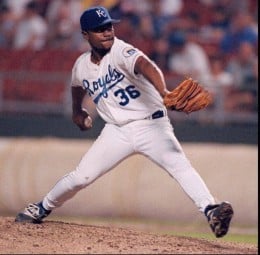 Yordano Ventura recalls Tom 'Flash' Gordon
There is nothing surprising to me about a man as 'small' as Yordano Ventura being able to throw 100 mile per hour fastballs. No long time fan of the Kansas City Royals should be heard to say they're amazed by it any at all. Yordano is a larger man to the great Tom Gordon, who also had a great fastball, and played in Kansas City.
Tom Gordon was known most specifically for his power curve ball, and it was thought to be one of the best curve balls in the game during the years Tom Gordon played. Yordano's curve is nothing to sneeze at. It's swung on and missed often enough.
There is a strong case that Gordon belongs in the Hall of Fame. He's a guy who switched from the rotation to the bullpen, and so his statistics can only be viewed in light of the fact. Should Ventura have arm issues for all those blazing fastballs, he too could wind up as a lights out closing pitcher. He'd likely look a right handed
Aroldis Chapman
from the pen, but I'm hoping for him to stay a rotation guy, and get a full season of starts, and to be allowed more innings to pitch in 2016.
Yorlando Ventura - power against power
Why does the high 90 mile per hour, or the 100 mile per hour fastball excite us so? We want to see, forever, the best someone has got. Superhuman performance, or performance on the outer edges of human abilities always excites us. Especially this is true with physical performances of the athletic variety. We love to see people doing things we know we can not do, and couldn't do no matter how hard we tried. We like to see ourselves as having those abilities though, but more often than not, our great gifts are only appreciated on a much smaller scale, and rewarded the same, at a much smaller scale. But this supposes the rewards earned are always monetary. We know instinctively after much pondering and in wiser moments that wealth and fame won't do it for us, but the highs we imagine someone has for having wealth and fame draw us to them.
Or, we could just say we love the highest levels of competition imaginable in a spectacle and on a big stage. We want to see the best, fastest fastball up against the strongest swinging bats. We want to see who will come out on top, will it be Chris Davis, or will it be Yorlando Ventura. Will Chris Sale top Joey Gallo, or the other way around. Can't wait to see Max Scherzer, or Clayton Kershaw, and how they do against mega power Giancarlo Stanton. Those are the kinds of matcheups we love to see in Major League Baseball. Best bats against the finest pitches.

Yordano Ventura doesn't turn 25 years old until this coming June. Yeah, so he's not averaging a strikeout or more per inning yet. He's not giving up too many hits either. He's averaging less than a hit per inning, and his average of around 3 walks per nine innings is spectacular. He's a modern guy in the modern age, and these days they want pitchers to induce ground balls, and this is why Yordano is throwing those mid 90 mile per hour sinker fastballs along with the four seam fastball. Corey Kluber wasn't doing so well as Yordano is at a similar age, for that matter, neither was a similar guy in the National League, Jacob deGrom. The sky is the limit on this Ventura kid.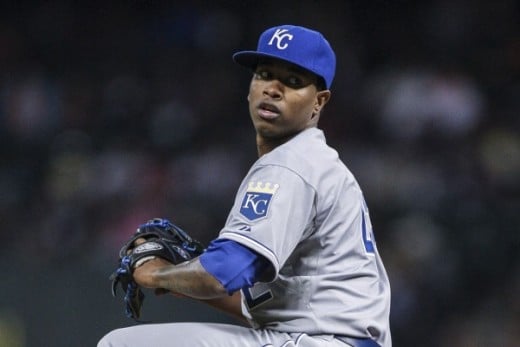 Yordano Ventura, becoming the power pitcher
Yordano is a very young man, a young man with two World Series seasons behind him. There are a lot of great pitchers who never got to start a World Series game, much less be a part of a World Series team. Before he's even in the prime years of his athletic life, Yordano has done this twice already.

He's a young man from the Dominican Republic. Major League Baseball has become ever the more competitive nowadays due to its international expansion. We've got Central Americans, Eastern Asians, it was that long ago in time when African Americans weren't even in the Major Leagues, we can all praise God above or the gods of baseball, wherever those are found, for the diversifying of MLB, and the higher level of play fans and players enjoy today.

Yordano is a part of this, and a participant at the highest levels, and a beneficiary, as are we all. He was born in June of 1991, a time when this author was getting ready for his senior year in high school. Strange how someone born in such a relative position to your own life can become someone you admire and long to see perform what is sometimes thought of as a child's game. We know better than that, though, baseball is a game to be enjoyed over the course of a lifetime.

Yordano was drafted as an international free agent in 2008 by Kansas City's Royals, he was paid $28K for the signing, and this is a lot of money to most anyone, but it isn't a lot of money for a prized arm like Yordano has. Noah Syndergaard, for example, received many many times that number in signing bonus dollars, and his signing bonus wasn't so large in respect to the contracts many another young young man has signed.
Yordano would play minor league ball for a few years, he was undoubtedly signed at a pre-adult age, but this is how it goes with baseball now, and for a Central American kid, likely living in circumstances most would consider as impoverished, he was on top of the world, at least the one he came out of.

Yordano would wait until 2013 to make a Big League appearance. He was given the typical bit of late season show teams give to promising minor league guys in September when the rosters expand. In 2014, he'd make the starting rotation for the Royals out of spring training, and he'd pitch there all year, finishing with 14 wins and 10 losses, and a highly respectable earned run average of 3.20. He'd shine like the light of the sun in the post season, especially in the World Series, where he pitched seven shut down scoreless innings in game six, over San Francisco.

2015 saw Yordano become a rich man by anyone's standards. He got a contract with the Royals for 23 million dollars. Should he continue progressing as his talents show he may, his next contract will be truly spectacular. He was also the Royals opening day starter last year, and this shows you, and everyone what the Royals front office thinks and feels about Yordano, and his prized right arm. The kid with the electric arm struggled until the Royals acquired somewhat of a role model for him to learn from, Johnny Cueto, and then he improved significantly, and finished the year at 13 wins and 8 losses, with a somewhat marginal earned run average of over 4.

What will 2016 show us from Yordano Ventura? Hopefully more consistency, and hopefully more innings and strikeouts. He's got the arm for Cy Young awards, and many of them. Thanks for reading.