Another right handed ace out of Texas, Corey Kluber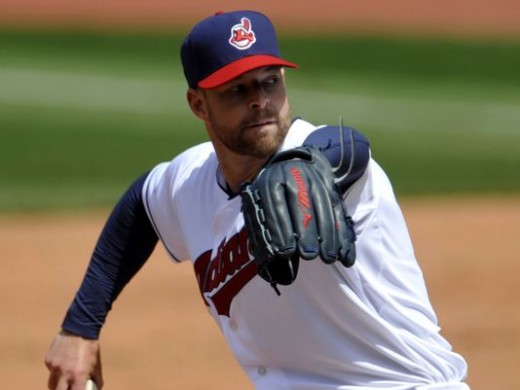 Cleveland Indians Ace, Corey Kluber
Corey Kluber is the ace of the Cleveland Indians starting rotation. There aren't many Major League rotations he'd not be the ace of. The spot is all his, and has been for the past two straight seasons. Don't let Kluber's 2015 season fool you. Kluber is a man with a mission, and a love for the game.
Corey Kluber has some odd statistics. Baseball is a team sport though, so when a pitcher wins a huge lot of games, the pitcher can never take all the credit. It is the same when a pitcher loses a lot of games. So Kluber led the American League in loses in 2015. This is true, he'd have been the staff ace though, had he pitched the entire season for the Texas Rangers, or even the Toronto Blue Jays. Kluber just had the misfortune of pitching the season for the Cleveland Indians.
Corey Kluber had a slow start to the 2015 season, but his slow start doesn't change the fact he had some seriously limp wood in the batting orders in the games he pitched. Carlos Santana led the team with a measly 18 home runs. There wasn't much inspiration coming from the bats. So bad it was that 2014 American League Cy Young winner, Corey Kluber went from winning the most games in 2014, to losing the most games in the American League in 2015.
Corey Kluber the intimidation look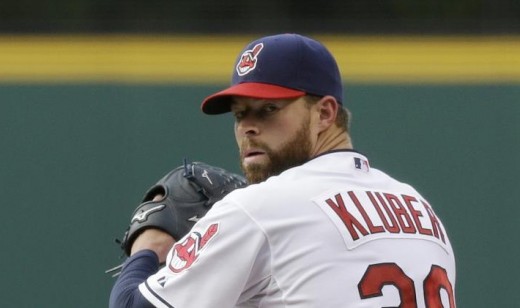 Corey Kluber has electric stuff, gets a lot of strikeouts
Corey Kluber isn't a strikeout pitcher in the normal sense of the way we think of them. Kluber is a guy who gets a lot of strikouts even though he is more or less pitching to contact, that is to say he's pitching with the idea in mind that it is wiser and faster to get you out by inducing a ground ball to one of the Indians infielders. He's a power sinker ball pitcher with good command and a good curve ball, and because his low to mid 90s sinker moves so much, he gets a big combination of dinky ground balls to the infield, and strikeouts too.
Does Kluber throw the four seam fastball? Of course he does, and those are the ones which will reach the higher numbers on the radar gun Sometimes a strikeout is truly preferable to a ground ball, Kluber has the ability to go either direction. He's a lot like Felix Hernandez in his approach, but Kluber is more into power pitching than King Felix is, and so Kluber doesn't rely so much on the change of pace or change-up. Then again, few have the change up of a Felix Hernandez or a Cole Hamels.
The Corey Kluber curve-ball? It's one of the best right handed curve balls in baseball. Corey doesn't throw a big lollipop curve ball like Clayton Kershaw will often do, instead, Kluber throws mide 80s power curves down in the strike zone. These Kluber curve balls break hard and fast and nearly straight down, resulting in a hell of a lot of swings and misses. Watching highlight video of Kluber and his power curve, you will see a lot of truly awesome hitters looking overwhelmed and over-matched. How good is it, I mean, really - compared to the rest of the American League, how good is Kluber's curve-ball? Well,
it's thought by American League managers to be second best in the American League
. What is odd to me is they talk about the horizontal break of the pitch. Kluber can make the pitch break in different ways by varying his arm angle, and he does this frequently.
Corey Kluber - Becoming the ace
Corey Kluber is clearly overpowering to American League hitters. This can be demonstrated not purely from his high strikeout totals, which exceed a rate of one per inning, but also by the hits per inning totals - he averages less than a hit per inning. Kluber also walks few batters. His strikeout to walk ratio is very good, and has been consistent over the past few seasons. Now in his prime, Corey will turn thirty years old just after the season begins. Corey Kluber is six feet and four inches tall. He has exceptionally good pitches, and has proven himself over the past two seasons to be a workhorse pitcher.
Cleveland has poor offense, and their defense is rather lackadaisical too, or at least they were each of the past two seasons. Some projections for the coming 2016 season favor Cleveland for AL Central pennant winners. I hope this is true simply for the sake of Mr. Corey Kluber, and his terrific right arm. If things go south for the Indians and they appear to be in a rebuilding phase, what a great load of prospects the team could get in return for a trade of Kluber to a contender chasing a pennant.
Corey Kluber may well be regarded as a late bloomer, only truly having his first good year when he had his first great year - but when you've got it all together as he does now, you don't just up and lose it unless you fall into poor habits or an injury. Not to draw too many comparisons, but his size and his pitches recall Dwight Gooden, especially with his curve ball and its dominion over hitters. Gooden made it big early and fizzled out, Kluber never became an ace until he was at the age where Gooden was fizzling out. I'm betting on Corey K sticking around a while.
They call him
Klubot
in the dugout and the clubhouse. He's a local boy to me, from Coppell, Texas. There's a nice long list of powerful right arms who made it big in the Big Leagues from the great state of Texas. Corey is another in the long line. He's made the list. His amateur career wasn't so sterling. He didn't elicit big wows from scouts at a young age. Corey
Klubot
Kluber had to work hard to make it to professional ball.
Being picked in the 4th round of a Major League draft isn't something to sneeze at though, neither is a $200,000 signing bonus. Many a man more highly regarded early on, and more highly paid from a young age never panned out at all. Though the draft was in 2007, Corey wouldn't make it to the Majors until 2013, and that wasn't with the team who drafted him. The Padres had traded him to the Indians. His Big League beginnings were auspicious, he'd rack up some high strikeout totals, win Player Of The Week for the American League.
In 2014 he'd be a regular rotation guy. He'd win Player Of The Week award again, and then Pitcher of the Month in September. He'd tie fellow power pitcher
Max Scherzer
for wins, and come in second to only David Price in strikeouts with his 269. Two hundred and sixty nine strikeouts is a superlative and sparkling power total. In a game in 2015, a trying season for the Indians, Kluber would on the 13th of May strikeout 18 batters, tying the legendary Bob Feller for the team record.
2016 was another great year for Kluber. He proved all the loses the previous season were just a fluke, and that he was still an Ace. He's still a Cy Young contender. He showed more persons at once than he'd ever showed before during the historic World Series against the Cubs. Sure, the Indians lost, but Kluber put on a show for what mastery on the mound was all about. Expect big things from Kluber in 2017.