He is over forty three years old, and he weighs somewhere around three hundred pounds. Almost every pitch he throws is a fastball. No, they aren't so fast any longer, but he can put them just about right where he wants them to be. He is Bartolo Colon, and at one time he was the hardest throwing starting pitcher in all the Major Leagues.
Two hundred and thirty four career victories, and I hope he learns the knuckle-ball and pitches until he's well past fifty years. I'd love to see him get three hundred wins, but it won't happen. He could still make the HOF, you never know.
He turned in yet another first rate season in 2016, and now he's off to yet another new team, this time it is the Braves in Atlanta. Bart Colon is the last remaining player who once played for the Montreal Expos. He's the last of the Mohicans.
Bartolo Colon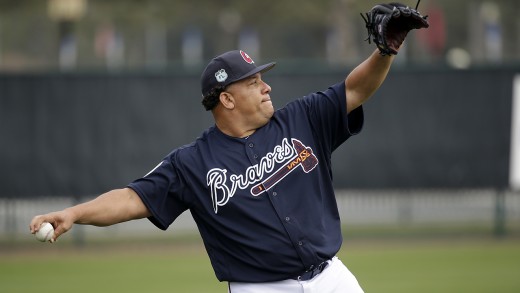 You have to admire Bartolo Colon. How could you not? He is now 42 years old, and still a starting pitcher in the Major Leagues. Yes, this has been done before, but not often. Bartolo isn't done yet. Who knows how long he may be able to go on? Personally, I hope he learns the knuckleball, or something, and pitches into his 50's.
Longevity is something I admire in a person. 42 isn't old for a human, but it is for a professional baseball player. Especially, it is old for a pitcher. But Colon has adapted over the years. He'll be the first to tell you. At one point, years ago, Bartolo Colon was known as the guy who threw the most pitches in the upper 90 mile per hour and 100 mile per hour range of all pitchers in the Major Leagues. He did that for a season or three, but Bartolo was just a thrower of a pitcher then. Nowadays, he barely breaks 90 miles per hour at all.
Bartolo Colon is one very successful human being
You can measure a person's success in many different ways. But if you measure it by looking at where someone came from, and where they got to, then Bartolo Colon's success is tremendous. He grew up very poor in the Dominican Republic. When you are as poor as the Colon family was, you probably don't realize how poor you are, as your whole community is just as poor. Bartolo grew up working 12 hour days picking beans and fruit. As did the rest of his family, and many another community member too.
But look where Bartolo has gone from there. He's a millionaire many times over now. He's a United States citizen, and at 42 years of age, is maybe a better pitcher than ever before. He certainly provides a role model for a New York Mets pitching staff, and Colon is the one man there who's ever experienced the kind of transitions he has. Those flame throwers on the Mets staff, Syndergaard and DeGrom, they're going to get older too someday. I bet they'll never forget the time they've spent with Bartolo Colon. What a great role model Colon must be for young pitchers!
Young Bartolo Colon with the Cleveland Indians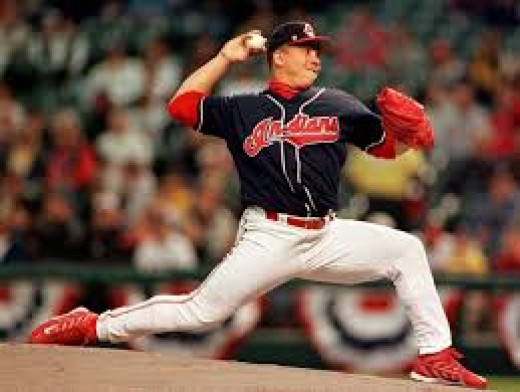 Bartolo Colon with the Cleveland Indians
Colon's career began with the Cleveland Indians organization. He was signed by them in 1993 and sent to A ball, where he did quite well, and won 13 games. This earned him a promotion. By 1997 he had made it to the Indians AAA ball club, and he threw a no-hitter for their AAA team at Coca-Cola Field. Before the 97' season was done Colon would be in the Major Leagues.
Though his numbers were far from good in his initial half season with Cleveland, he would certainly improve. One oddity is Colon has the MLB record for pitches thrown in a single at-bat. In a 1998 game he threw 20 pitches to a batter before finally striking out the tenacious man.
The Cleveland Indians were quite good in 1998, and they made it to the post-season. Colon got a start in the ALCS, and threw a winning complete game, allowing just one run. Colon was a legitimate starting pitcher workhorse in 1998. He went 14-9, with a 3.71 ERA. He threw 204 innings too.
1999 was a breakout season for Colon. He won a lot of games that year, going 18-5 for a .783 winning percentage. He pitched over 200 innings for a second consecutive year, and he only allowed 185 hits in his 205 innings pitched.
In these early years Bartolo Colon was one of the hardest throwing starting pitchers in all of Major League Baseball. His average fastball speed was the fastest in the Big Leagues at least one season. He was officially documented at 100 miles per hour a few times in 1999, and afterwards too. But Colon would tell you he was just a thrower then. He could barely throw any pitch other than a fastball. He was doing better than you would expect for someone who's every pitch was in the same range of velocity.
Colon's best seasons as a power pitcher, i.e., someone who strikes out a lot of batters, came with the Cleveland Indians in 2000 and 2001. Both seasons he struck out over 200 batters. Bartolo was a winning pitcher for Cleveland, and outside of his first half season, always posted a winning record. He had a terrific won/loss record in 2002 for Cleveland, but was traded to the Montreal Expos.
Bartolo Colon with the Montreal Expos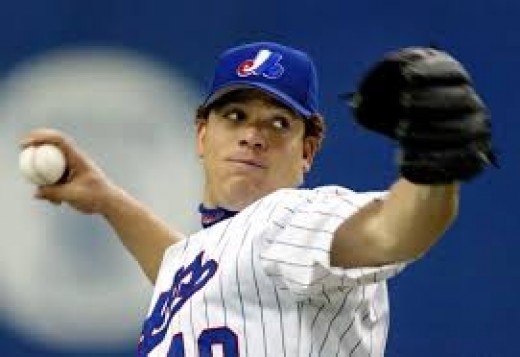 Colon splits 2002 between Cleveland and Montreal, and he wins 20 games in total
Another interesting fact about Bartolo Colon is he is the last player in Major League Baseball to have been a member of the Montreal Expos. The team, of course, does not exist any longer, but long lived pitcher Colon pitches on. Bartolo Colon is a very positive sort of person. In interviews, he has only positive things to say. Perhaps this trait contributes to longevity in athletics? I would suspect so. Colon says he loved playing in Montreal.
He had a terrific year the year he spent divided between Cleveland and Montreal. He went 20 wins and 8 losses, winning ten games in Cleveland, and ten for the former Canadian team. He had also progressed into a guy who a team could rely on to pitch a lot of innings. He had thrown 222 innings his last full season in Cleveland, and the year he split between Cleveland and Montreal, he threw 233 total innings.
2003 with the Chicago White Sox
Colon would spend 2003 with the White Sox of Chicago. He had another winning season. He went 15 wins and 13 losses. Which may not seem so wonderful, but baseball is a team sport. Bartolo had a very respectable earned run average of 3.87. He also pitched a lot of innings, posting a career best total of 242 innings pitched, and 9 complete games.
Bartolo Colon with the Angels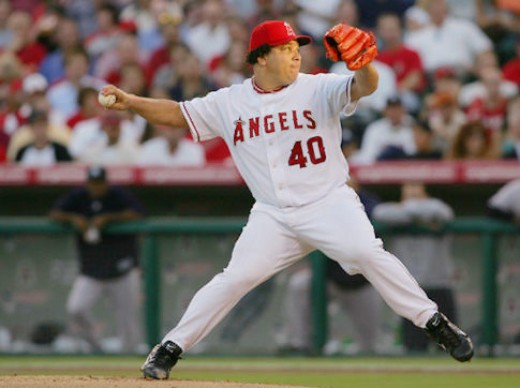 Bartolo Colon with the Angels
Bartolo Colon is a well traveled pitcher. With the Anaheim or Los Angeles (depending on which year you look at it, the team didn't move anywhere, they just changed where they designated the team to be located, even though the location didn't change. Make sense? Of course it doesn't.) Colon would reach the highest and maybe, the lowest points of his long career.
I have no explanation for why teams traded Colon so frequently. It always seemed to work in his favor, and not theirs. But Bartolo is a happy and positive sort of man, and so, who can hurt him? If it is permitted for me to hazard a guess, I would guess his large size makes him appear to be less athletic than he actually is. Call it body bias or something. Colon is a very large man. He is listed as weighing in, now, at 285. I suspect the weight is more or less correct. But Bartolo was always large. Of course he was smaller when he was much younger. He is also only five feet and eleven inches tall. So he does not have what you would call the ideal body for pitching. But then again, Bartolo is still pitching today, and will soon be 43 years old. So maybe MLB scouts should start taking notice that not every great pitcher needs be built like
Justin Verlander
.
In 2004 Colon had yet another winning season. He's over his career rather reliable for putting out a winning record. He won 18 games and lost 12. This is good for a .600 winning percentage, and when you have that sort of number as a winning percentage, you will certainly find employment in Major League Baseball. The thing was, Bartolo's ERA in 2004 was a rather horrible 5.01. So in that regard, he had a poor season. But again he pitched over 200 innings.
2005 was the season where Bartolo joined the greats in that he won a Cy Young award. He seemed to have everything together that year, and he won 21 games, losing 8. His earned run average in 05' was a much more typical, for him, 3.48. He again pitched over 200 innings, and the total was 222.2. His .724 winning percentage was superlative. As the years had wore on, Colon was much less of a strikeout pitcher, and much more of a control pitcher. He still and always has thrown fastballs at least 90% of the time. Some 4 seem fastballs, some 2 seem sinking fastballs. He does have a change of pace and a slider, but those are seldom used.
In the 2005 post-season Colon partially tore his rotator cuff. So his 2006 season was largely spent on the disabled list, and when he did get to pitch, he wasn't himself. He had a losing record in 2006. This was not a healthy Bartolo Colon. The man affectionately called either
Big Bart
or
Big Sexy
, was hurting for the first time in his career. Bartolo would have a better year in 2007 with the Angels, but he again spent a lot of time on the DL, and he posted another losing record.
Big Sexy with the Boston Red Sox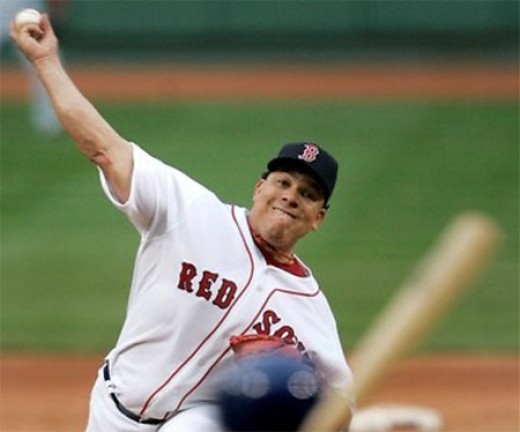 Big Bart and the Boston Red Sox
The Angels gave up on Bartolo Colon, even after he showed them the best he had to offer. A torn rotator cuff is no small matter for an aging pitcher. So in defense of the Angels management, there was reason to believe Colon could not recover.
Perhaps people giving up on him added fuel to his fire? All great athletes love to compete, and Colon came from a poor background in the Dominican Republic, and so how could he ever stop working as hard as he could to play a game as wonderful as baseball, and in the Major Leagues where he made so much money?
The Red Sox of Boston gave Colon a minor league deal. They wanted to see if he still had gas left in his tank, and he showed them he certainly did. He threw a one-hitter for the Red Sox AAA team in Pawtucket. So he was soon on the Big League team. Sometimes a man has to put family matters above all else, as is right, as he should. Bartolo ended his career with the Red Sox by leaving for the Dominican Republic while the season was still on. He had personal matters to attend to. His choice should be respected.
Bartolo Colon had his second sting with the Chicago White Sox in 2009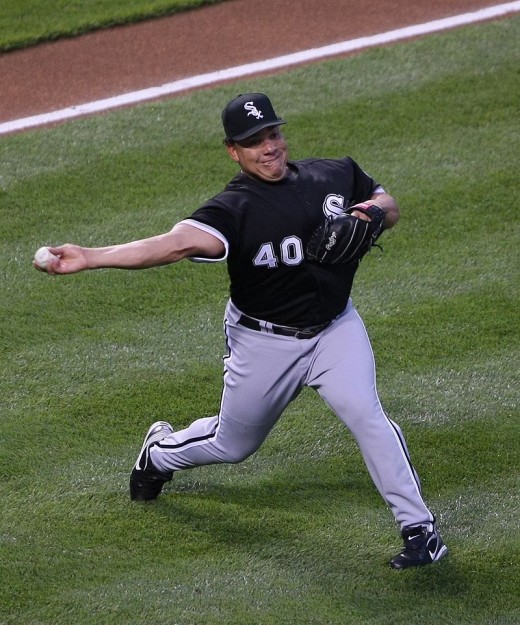 2009 with the Chicago White Sox
When you think of pitchers in any league of baseball. You need to realize the human body wasn't designed over the millions of years to throw baseballs over, and over, and over again. It is an un-natural sort of thing for a Homo sapien to be spending his time doing. But such is the nature of many sports and many other activities humans are involved in in this ever increasingly complex world we share.
All that to say Colon, as he advanced in years, had more and more problems with his arm and shoulder. In 2009 the White Sox gave him one million dollars to compete for a spot in their starting rotation. Colon had a very nice winning percentage in his career, and a strong work ethic, and stronger desire to play, so the million bucks was a reasonable risk for such a workhorse starting pitcher as Big Bart. He'd had surgery in the off-season to remove bone chips from his pitching elbow. He made the team as the 5th starter in the rotation, but his season didn't go so well as he and the Sox may have liked.
Big Bart goes to New York City, and pitches for the Yankees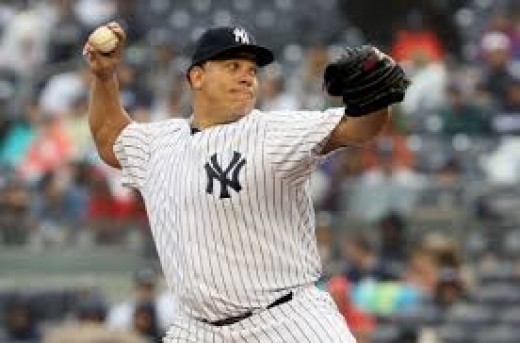 Bartolo Colon with the New York Yankees
As so often happens, a player who's been a winner over the course of his career, winds up in New York, playing for the Yankees. Gotham's finest. You love them, or maybe you hate them. That's just how it goes with the Yankees.
The Empire State wasn't where Bartolo spent 2010 in uniform. He didn't play in 2010. He spent the entire season recovering from injuries. But he still burned to play baseball. Such is to be admired. Colon could have surely retired comfortably at any time, but he loved the game. Big Sexy loves baseball. This is how you have a long career, a successful career, and at anything. You keep pursuing it because you love it. Colon would pitch for the Yankees in 2011. He had a controversial stem cell implant. His controversial surgery was scrutinized by MLB brass. Why? The surgery he had usually involved human growth hormone. But the surgeon didn't use it with Bart.
He attempted a comeback. With the Yankees. The biggest team in the Big Leagues. The brightest of all bright lights. Supposedly, Big Sexy showed up to spring training 30 pounds overweight. How can you be 30 pounds overweight when you are always at least 30 pounds overweight? Maybe he was 60 pounds overweight. Doesn't matter, he made the team. No, he would not yet return to winning form. He had some very bright moments, moments where he proved he could still compete. He finished the season with 8 wins and 10 losses and a respectable earned run average of around 4 runs per 9 innings.
Bartolo Colon with the Oakland Athletics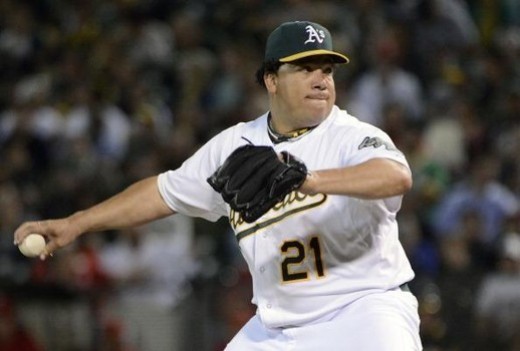 Bartolo Colon, throwing strikes with the Oakland Athletics
The Oakland Athletics gave Colon 2 million bucks to play for them in 2012. As the game of baseball has progressed, it has advanced in statistical analysis in ways the players of old may have struggled to comprehend. Everything is tracked, everything is measured. What is and isn't valuable, truly valuable in terms of success for a player and for a team, these things have been reckoned anew. Colon threw 38 consecutive strikes in a game, it was figured to be the most consecutive strikes a pitcher threw in a game since 1988.
Colon ran into some trouble with Major League Baseball brass. He tested positive for a performance enhancing drug, synthetic testosterone. He was suspended for a whopping 50 games, but that is the standard suspension for a PED positive piss test these days, ask Nelson Cruz. Anyway, the Athletics asked Bartolo back for the next season, and it was agreed upon too.
Pitchers and other players who've lasted as many seasons as had Bartolo at this point in his career, have often had to make many adjustments to make up for their declining skills. You know how it goes, it is possible for a man to do at 35 or even 45 what he could do at 25, but it isn't likely because the same man would have to work much harder as he advances in age to keep up his physical ability. Nolan Ryan is the ultimate example to us all insofar as a man maintaining his physical ability to the utmost late into his middle age years. Nolan Ryan was sort of like T.H. White's Lancelot in this way. But Colon was never truly a strikeout pitcher. A power pitcher - he wasn't ever really one.
He made the All Star team for the 3rd time in 2013. He'd had a wonderfully successful first half of the season. But the entire season was a resounding success. Colon had returned after years of nagging injuries and problems to top form. He recorded a record of 18 wins and 6 losses. His earned run average was a superlative 2.65. The best ERA he'd had since 2002!
Big Bart Colon with the New York Mets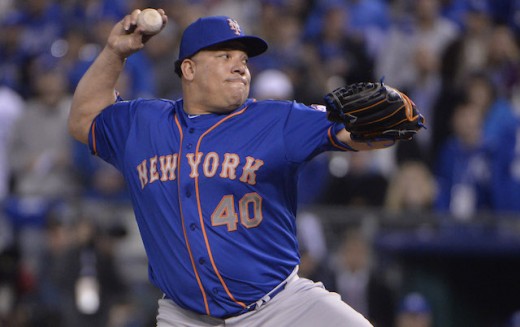 Bartolo Colon and the New York Mets.
What makes the Bartolo Colon story so inspiring is how he's just never ever gave up. Many many pitchers who've probably had more talent have come and gone during Bartolo's career. But Big Sexy is still here, still pitching. And why is that? Because he loves the game more than the others did in a lot of cases. He had more will to continue. Most players don't miss an entire season and come back - except in the instance of Tommy John surgery, and Bartolo hasn't had that injury.
The Mets signed the ever like able Colon for two years at a total of $20 million bucks. He's certainly given the team their money's worth too. With the Mets he's become the 3rd pitcher from the Dominican Republic to eclipse 200 total wins. The other two are in the Hall of Fame, hello? Colon is a good candidate for the Hall of Fame. His longevity and tenacious pitching self make him a possible. He now has more wins than persons like
Curt Schilling
, who many of us believe deserves to be voted into the Hall of Fame.
Colon did what Colon does in 2014. He pitched over 200 innings and posted a winning record. But his 2015 season was where the real fun came in. Colon, inning eating workhorse that he has so often been, got a decision in his 26th straight game in which he started. The Mets won big in 2015, making it all the way to the World Series. Colon did lose a game in the World Series, but he became the oldest pitcher to ever do so. There is certainly much to be applauded in this distinction of his. He finished the 2015 season at 14 wins and 13 losses. The Mets signed Colon for another round in 2016, and thus far, Big Sexy is still Sexy. I hope to God he does very very well, and comes back again next year. Bartolo Colon is an inspiration to us all, my friends. Lets wish him the best. Thanks for reading.