You don't have to be a Red Sox fan to be a little worried about David Price's left arm. I'm worried, but not overly so. As a life long baseball fan I'm invested in seeing David turn in a fine performance again in 2017. It's best he not rush it though.
He's still just 31 years old. He is averaging sixteen wins and two hundred and seventeen strikeouts per year. That's quite good in today's age of limiting pitchers to fairly strict pitch counts.
Five seasons he's had well over two hundred Ks now. With his young age and his skills not in decline, we hope David can catch three thousand Ks and somewhere close to three hundred wins before he hangs it up. It's been said by some there would never be another three hundred game winner. Myself, I'm terribly saddened by such notions, and want to see them destroyed. So I'm rooting for David Price this year, and every year.
Big lefty David Price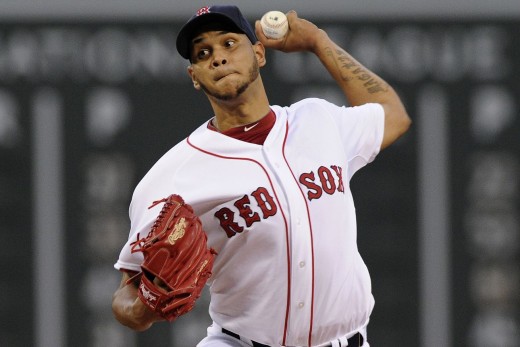 David Price is a big shot in today's Major League Baseball
David Price is a baseball celebrity, and in the realms of words on the web, he appears to be an easy going guy. He probably is, when he isn't on the baseball diamond. Between those white lines and standing on that hill though, David Price is a high ranking race horse. You don't bet against him too often, not with your own money.
Price is a big commodity in the baseball community. He is six foot six inches tall, and is well known to pack some of the best left handed stuff on the mound there is. He's been used as a hired gun. A rent an Ace. Hey, baseball players live for the competition, and want to be on the biggest stage, and you often see David standing right there on the mound, center of the screen of your tv.
You also see David working very, very quickly. Besides having elite pitching stuff, David paces the game, and he paces the games to move very fast. You can imagine he is in impeccable physical condition. I'd imagine you imagine right.
I'm no psychologist. Sports or otherwise, I would think the way Price controls the pace of the game, the way he dominates the batter's at bat with his demanding schedule, I would reckon this all affects the batter psychologically. The guy in the batter's box has to subconsciously think,
'gosh damn, this David Price fella isn't messing about, he wants to get this done, and so I must align myself to his scheduling.'
So the batter is already in submission when he's rushed to meet David's pace.
David Price at Vanderbilt University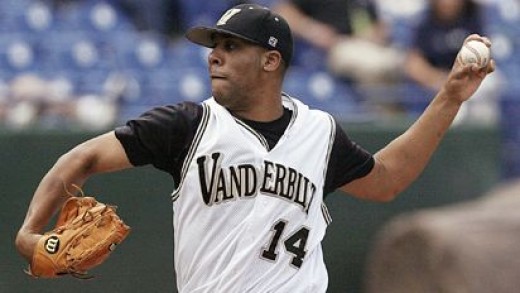 David Price has been a dominating pitcher since he was in high school
David Taylor Price is all American. He's Tennessee tall. Does his home state proud.
He has two older brothers. He says he learned to hate losing any sort of competition for having to compete against his brothers. Isn't it neat how family life sometimes frames our forever? It seems to be working out on David's end.
He grew up a Braves fan. The Braves used to have some fabulous pitching staffs. But David admired David, David Justice. Price pitched in high school, and you can imagine clearly he stood out as a pitcher. He did.
David Price was drafter right out of high school, but he's an intelligent man, and took an academic scholarship to Vanderbilt University instead. That's right, he went to college on a book smarts scholarship. David was so into his schooling at Vanderbilt that he threatened to quit baseball to concentrate on his studies. Well, we're glad that didn't happen. At this point I'm sure David is too.
When you are as tall, and athletically built as is David Price, the expectations are you'll be able to
throw baseballs 100 miles per hour
, and not just every blue moon, either. David has this rare ability, but he especially did as a younger man than he is now. He overwhelmed college hitters. He racked up large strikeout counts. He got a lot of recognition, and you can be sure Major League scouts were salivating, dreaming they'd be the one to get a feather in their caps for signing David Price.
His freshman and sophomore years were astounding, but his junior year he set records. But the record he broke was one of his own. This is the orbit of David Price at Vanderbilt University. He mostly had to look to himself for competition.
David Price with the Tampa Bay Devil Rays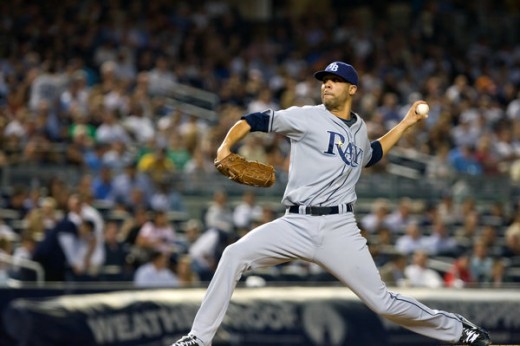 David Price becomes a very wealthy young man before he even makes the Major Leagues
Realistically, you have to realize David Price knew he would become a wealthy man at a young age for his athletic ability. Persons who are capable of throwing 100 mile per hour fastballs half the night are hard to come by. Persons who are left handed and can do this, even more difficult to find. Price had a goldmine of an arm, and likely knew it. Luckily, he took care of himself, and was also genuinely interested in his studies. So many young athletes these days falter by the wayside, like Josh Hamilton had done. Well, price could wait for his big payday. Gaining intellectual and athletic maturity were what was important.
But when the day came, the day someone would coax David into signing a professional contract, David would become a very rich young man. Would he prove to have been worth that money? Or would he be just another promising athlete who blew out his life? David probably never wondered which sort he would be. He probably knew all along he'd become Cy Young winning Major League superstar hurler.
It was August 15, 2007. The check offered David for a signature and promise to become a part of the Devil Rays organization was a record breaking check. David was used to breaking records, but this one would nearly insure him financial stability. It was certainly more money than most men ever see in their entire lives, were their incomes over the years combined. The total value of his contract was $11.25 million dollars.
Barack Obama meets some stars from the Tampa bay Devil Rays, including David Price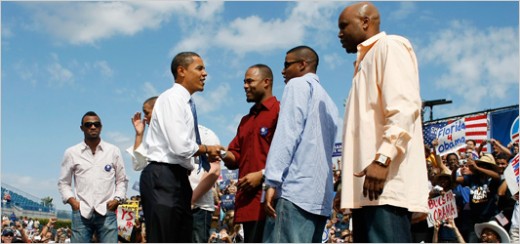 David Price - he's a big deal early in his Major League career
David would breeze through the Devil Rays minor league system as balls he threw would breeze by minor league hitters' bats. His fastball was averaging 98 miles per hour. Too good to waste, his talent debuted in the Major Leagues against the New York Yankees on September 14, 2008.
The post-season rolled around and Price was chosen to stay with the Big League club. He pitched throughout the post season, and got to play in the World Series, despite the paucity of his Major League experience. He was surely a big deal, as he wound up announcing Presidential candidate Barack Obama at a campaign rally in Tampa.
Though Price had been an important part of the Devil Rays 2008 post season team, he'd still only be a rookie in 2009. But his 2009 season went rather well, and he established himself as a Big League starting pitcher. As much money as had been invested into David Price, you can well imagine he was handled with kid gloves, whether they were needed, or not. David started roughly 2/3rds of a seasons worth of games, and he produced a very nice record of 10 wins and 7 loses. Oh, his earned run average was bigger than he'd have liked, and he had fewer strikeouts than innings pitched. But David learns quickly. He would prove what kind of lefty he was in 2010.
David Price 2010-2012. Becoming a Cy Young winner
Price pitched to the level of staff ace in 2010, and his statistics for the season show it. He won 19 games during the regular season, and his earned run average was a sparkling 2.72. The only drawback or lack to his 2010 season was how he was out-dueled twice in the playoffs by the Texas Rangers ace Cliff Lee.
Maybe being outdone by Lee left a lingering psychological scar, for David didn't do nearly so well in 2011. But baseball is a team sport. Price had a losing record for 2011. He won 12 games, but he lost 13. His earned run average inflated, but was still very good, especially for a man who had started 34 games, and pitched over 200 innings. David recorded over 200 strikeouts for the first time in 2011. He finished with 218 Ks in 224.1 innings.
It has long been recognized an athlete comes into his athletic prime around his 27th year. This doesn't always hold to be true, but in the general sense, it is a truth. So in David's 27th year, in 2012, he pitched a Cy Young award winning season.
The Tampa Bay Devil Rays, now just known as the
Rays
, are a new baseball franchise. Certainly they are new when compared to the older ones, such as the Yankees. Anyway, David won 20 games in the season, becoming the Devil Rays first pitcher to do so. He also tied for MLB lead in wins with the total. Besides the wins, his earned run average was a sparkling 2.54. David won 20 games, but he lost few enough to have the highest winning percentage in the league, He won .800%, struck out another 205 batters, and established himself further as one of the premier left handed starters in baseball.
David Price, traded to the Detroit Tigers in late 2014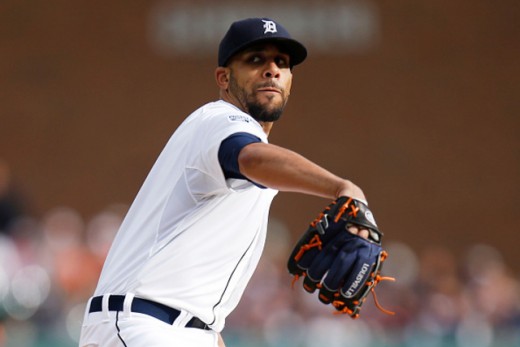 David Price is traded to the Detroit Tigers
In 2013 Price wouldn't put up the same sort of performance as he had the previous season. By this point his was a basically automatic All Star selection or recognition. He would spend some time absent the rotation with minor injuries. Throwing baseballs one hundred miles per hour, is an unnatural sort of vocation. Even for a young man, some time will be down time.
He made 27 starts for the Rays in 2013, and he posted a winning record of 10 wins and 8 loses. He would not throw 200 innings in 2013, nor would he strike out 200 batters, and his earned run average would rise to a more human but still very respectable 3.33.
2014 would prove to be a much more productive season for comrade David Price. Though he would spend most of the season with his Tampa Bay Rays, before the season was complete he would find himself traded to another fine, all American city, and fine old baseball organization, the Detroit Tigers.
He started 2014 out strong as ever. At one point he had 5 straight starts of 10 or more strikeouts. David is a harder thrower, usually, than is Chris Sale. But there is the most aptly comparable left handed starter who we can compare with David Price.
On July 31, 2014 a major bit of trading was orchestrated where Price wound up pitching for the Detroit Tigers, joining one of the dominant starting rotations then in the game. What horror it must have been for a team to face Max Scherzer one night, and then David Price the next.
For the season, David's record insofar as wins vs losses go, wouldn't be his most impressive; but his power pitching statistics were astounding. He led the Major Leagues with 271 strikeouts, and a WHIP of just 1.08. David was by then a very established and durable power arm. He also led the Major Leagues in innings pitched, with 248 and 1/3.
David Price with the Toronto Blue Jays in 2015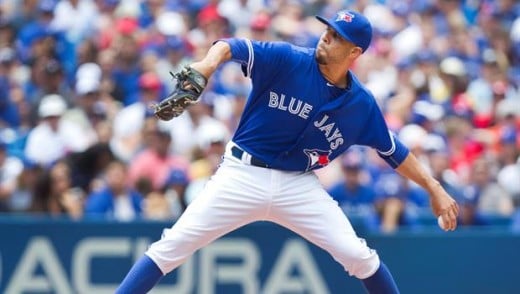 David Price 2015 and beyond
David Price, throughout his career, has been very very consistent. Consistently good. Oh, his won and loss record wasn't always sterling, but this is because baseball is forever a team sport. A pitcher usually does not win a game all on his own. Actually, never.
So teams who want to win will gravitate to someone like Price, who has the great stuff of a rotation ace. He pitches deep into games, and an inning eating starter is forever such a blessing for a team to have.
The Tigers put their money up to show the wanted David as an integral part of the team. They awarded him $19.75 million for the 2015 season in salary arbitration. This was a record breaking salary figure for salary arbitration. This was also not the first time David Price had broken a payout record. But who's counting?
2015 saw David's 5th All Star team. Surely it won't be his last. Again in late July, David was traded to a contending team. He may or may not love the moving from city to city, but he certainly loves the game of baseball, and the competition against the best baseball players on winning baseball teams. He pitched wonderfully down the stretch for the Toronto Blue Jays, a team powered by great bats such as Joey Bautista, and 2015 AL MVP winner Josh Donaldson.
For the 2015 season David would finish with 18 wins and 5 loses, and a very low earned run average of 2.45. He'd finish second in the Cy Young voting behind only
Dallas Keuchel.
As the 2015 season was a salary arbitration season, David was now free to pursue another huge payout from the free agent free market. He scored large, as you would expect, by signing with the Boston Red Sox for $217 million dollars over seven years. As you imagined, the great power pitcher David Price again set a record for his very high price. God Bless America, and thanks for reading.